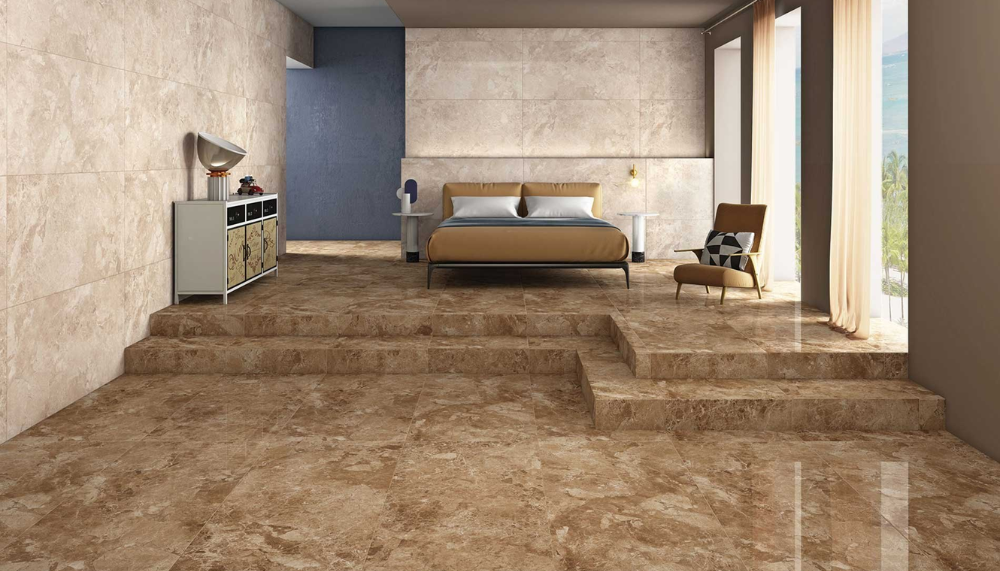 Selection of perfect flooring or wall covering material is a task. The vitrified porcelain tiles, a type of ceramic tile are the talk of the town emerging as a highly favored option in recent times. The surge in popularity of these tiles has raised the bar in the market. With their remarkable combination of aesthetics, durability, and practicality.
In this blog, we get to know the major reasons for which acclaim of vitrified porcelain floor tiles. We invite you to explore their unique features and delve into the benefits which stand them out as an exceptional choice.
Definition and Favored Characteristics
Vitrified porcelain tiles are the superior kind of porcelain tiles, that are renowned for their exceptional strength and durability. The composed blend of clay, silica, feldspar, and other natural materials is what makes up the tiles. These tiles undergo a firing at a major high-temperature process that results in vitrification.
The vitrification process creates a dense and compact tile with a lesser water absorption rate than 0.5%. Thus, making the vitrified porcelain tiles highly resistant to water and stains. Furthermore, this process imbues them with impressive strength, effectively allowing them to withstand wear, scratches, and impacts.
7 Reasons Why Vitrified Porcelain Tiles are Quiet Popular
1. Superior Strength and Durability
The immense popularity of fully vitrified porcelain floor tiles is their outstanding strength and durability. These tiles are well suited for both residential and commercial spaces. Even the areas with high-traffic areas.
Unlike some other flooring options that may show signs of wear and tear over time, vitrified porcelain tiles maintain their appearance and integrity for extended periods. One of the primary reasons behind selecting the tiles is their ability to resist scratches and impacts. It was ensuring that they retain their original beauty and charm even in bustling environments.
2. Low Water Absorption and Stain Resistance
The low water absorption especially characterizes them, such a feature translates to them being unique. The excellent stain resistance makes the tiles easy to clean and maintain. Spills and stains do not permeate the surface, allowing for swift and effortless cleaning with basic household cleaning agents.
These tiles are a popular choice for areas prone to moisture and spills. Especially, in the bathroom and kitchen spaces, they retain their pristine appearance with minimal effort.
3. Aesthetic Versatility and Design Options
Interior design is a world where vitrified porcelain tiles offer an exciting range of possibilities.
In the vast realm of design options, the tiles have various colors, patterns, and textures. These tend to cater to diverse color palettes full of themes and preferences. Homeowners and designers can effortlessly find tiles that complement their vision, whether it's a contemporary, traditional, or eclectic look.
Additionally, fully vitrified porcelain tiles emulate the appearance of natural stone, wood, and other materials. Thereby, providing the aesthetic appeal of these elements without the associated maintenance challenges.
4. Easy Maintenance and Cleaning
The practicality of cleaning and maintaining the tiles is yet another factor driving their popularity. The non-porous surface of these tiles simplifies the cleaning process. These can be kept pristine with regular sweeping, vacuuming, or damp mopping.
Stubborn stains are easily tackled with mild cleaning agents, saving time and effort for homeowners and businesses. The hygienic nature of vitrified porcelain tiles contributes to a clean and healthy living or working environment.
5. Eco-Friendly and Sustainable Features
Vitrified porcelain floor tiles offer eco-friendly benefits benefiting environmentally conscious individuals and businesses. Crafted from natural raw materials, available in abundance including clay and silica, along with being renewable resources.
Consideration of the manufacturers is also as important as selecting the tiles. Ensuring to sign the one with energy-efficient manufacturing processes. Thereby, supporting the eco-friendly movement, reducing their carbon footprint and environmental impact.
By choosing the right manufacturer for vitrified porcelain tiles, you contribute to sustainable practices without compromising on quality or aesthetics.
6. Cost-Effectiveness and Value for Money
Though the upfront cost of vitrified porcelain floor tiles may be marginally higher than some other tile options, their long-term cost-effectiveness makes them a prudent investment.
The remarkable durability and low maintenance requirements of these tiles translate into reduced repair and replacement costs over time. Homeowners and businesses can expect significant cost savings, making vitrified porcelain tiles a valuable long-term choice.
7. Versatility in Applications
The versatility of vitrified porcelain tiles extends to a wide array of applications, making them an alluring choice for various spaces. These belong everywhere as they enhance the space irrespective of the placement as on floors, walls, countertops, and even outdoor areas like patios and balconies.
Their plus one ability to withstand harsh weather conditions and maintain even with heavy foot traffic. These pose an ideal option for both indoor and outdoor spaces. There are numerous successful and striking installations and real-life examples that demonstrate vitrified porcelain floor tiles across diverse projects.
Why Choose Zextron Vitrified Porcelain Tiles?
The soaring popularity of vitrified porcelain floor tiles is attributed to their impressive features, showing superior strength, low water absorption, and stain resistance. Their aesthetic versatility, ease of maintenance, and eco-friendly attributes further enhance their appeal.
These tiles continue to dominate the market, pleasing the eyes with beauty and daily activities functionality to those who choose them. There are ample design options and suitable applications best for both residential and commercial use. Vitrified tiles are an exceptional investment that will stand the test of time.
At Zextron, we've undoubtedly earned its well-deserved reputation as being your ultimate destination in the fully vitrified porcelain tiles market. The several factors that contribute to the widespread popularity and success are all catered by Zextron's exquisite collection of Porcelain tiles. Get in touch now to receive a competitive quote for your import requirements.
Frequently Asked Questions (FAQs):
What is vitrified porcelain tile?
Vitrified porcelain tiles are highly durable ceramic tiles with low water absorption. They are made by fusing clay and other materials at high temperatures, resulting in a dense, non-porous surface.
How to clean vitrified porcelain tiles?
Clean these tiles by sweeping or vacuuming to remove debris, then mop with a mixture of warm water and a mild pH-neutral cleaner. Avoid abrasive cleaners or acids that can damage the surface.
How to cut vitrified porcelain tiles?
Cut these porcelain tiles using a wet saw with a diamond blade for precise and clean cuts. Safety equipment like goggles and gloves are essential when cutting tiles.
Does vitrified porcelain need sealing?
These tiles are typically non-porous and do not require sealing. However, the grout used during installation will need to be sealed.