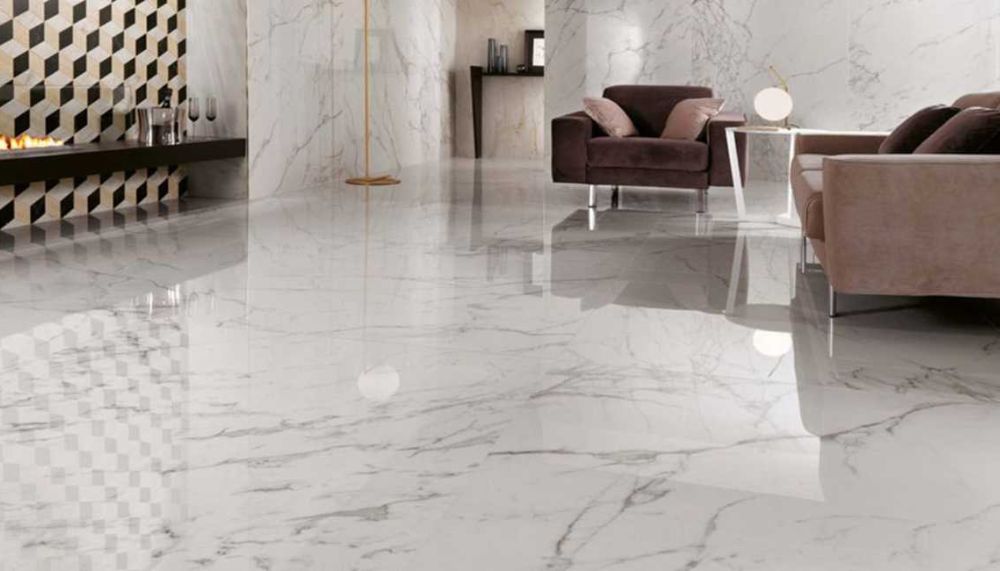 In the domains of interior design and architectural innovation, polished porcelain tiles have become a popular and versatile solution for flooring and wall coverings. The unique blend of beauty, resilience, and practicality, makes them the choice for both residential and commercial spaces.
This in-depth examination of polished porcelain tiles exposes both the advantages and disadvantages of their use. Understanding the intricacies of these porcelain tiles may help you make a choice that fits your vision and needs, whether you're starting a new design project or considering a renovation.
Advantages and Disadvantages of Polished Porcelain Tiles
Pros of Polished Porcelain Tiles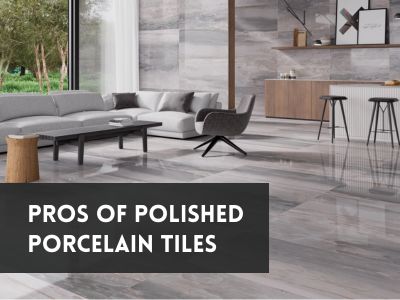 1. Luxurious Aesthetics
The attractiveness of polished porcelain tiles resides in their capacity to immediately improve any space's aesthetic appeal. The glossy, shiny surface gives off an air of wealth and sophistication that elevates ordinary spaces into displays of contemporary beauty. These tiles offer a touch of luxury that can greatly improve the atmosphere, whether they are used in large living rooms or little restrooms.
2. Reflective Properties
A striking characteristic of polished porcelain tiles is their capacity to reflect light. This trait is a potent tool for influencing how people perceive space. These tiles are a wise choice for individuals looking to maximize the visual dimensions of space because their reflected qualities can give the appearance of space in smaller rooms.
3. Easy Cleaning
Because time is a valuable resource, porcelain polished tiles provide an easy cleaning alternative. Spills, stains, and dirt can't penetrate the surface because it is smooth and non-porous. Regular cleaning consists mostly of basic sweeping and mopping, allowing you to enjoy a spotless environment without having to worry about laborious maintenance.
4. Durability and Longevity
Polished porcelain tiles are a consistent contender when it comes to durability. High temperatures are used throughout its creation to create a product that is remarkably resilient and able to stand the test of time. Because of their toughness, they are appropriate for high-traffic areas because they provide a reliable solution that can withstand the stresses of daily living.
Cons of Polished Porcelain Tiles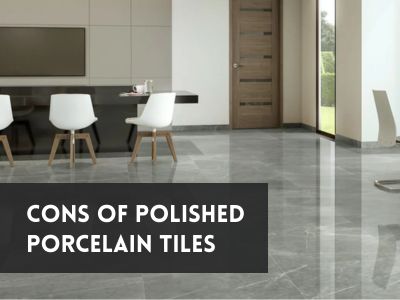 1. Slippery When Wet
A notable drawback of polished porcelain tiles is their propensity to become slippery when wet. This characteristic can potentially pose safety hazards, particularly in areas such as bathrooms and kitchens where moisture is commonplace. To mitigate this concern, it's advisable to use rugs or mats in areas that are more prone to getting wet.
2. Visible Footprints and Scratches
While the glossy finish of polished porcelain tiles contributes to their aesthetic charm, it is also more susceptible to displaying footprints, smudges, and scratches. This sensitivity requires consistent cleaning and maintenance to preserve their pristine appearance, which might be a consideration for those seeking a more low-maintenance option.
3. Maintenance of Shine
The gleaming brilliance of porcelain polished tiles may fade over time due to foot activity and maintenance. Periodic polishing may be required to maintain their original brilliance. Although not unduly hard, this method takes more effort and time, which should be included in your decision-making process.
4. Cold Underfoot
Polished porcelain tiles are cold to the touch, especially in colder climates or during colder seasons. Few people tend to dislike the cool sensation, especially in locations with heavy traffic. Area rugs can be used to combat the cold underfoot, or underfloor heating can provide an extra layer of warmth and comfort.
Polished tiles have a seductive beauty that collides with practicality. Their sumptuous appearance, reflective qualities, ease of care, and outstanding durability make them an enticing alternative for anybody seeking a fashionable and long-lasting solution to their design needs.
Conclusion
Finally, the decision to choose polished porcelain tiles should be based on a full study of both their benefits and drawbacks. You may boldly go on a design journey that includes the timeless appeal and utilitarian benefits of porcelain polished tiles, creating a room that flawlessly mixes elegance and functionality, by carefully evaluating these considerations against your particular requirements and preferences.
About Us
The fascination with Zextron's polished porcelain tiles extends beyond their opulent appearance; it stems from precise craftsmanship that flawlessly blends form and function. The company's dedication to quality is evident in the reflected characteristics that magnify the feeling of space, giving even the most modest spaces a sense of grandeur.
Our commitment to functionality is similarly impressive. The simplicity of washing and upkeep provided porcelain tiles demonstrates the brand's grasp of the needs of modern lifestyles. In a world where time is of the essence, Zextron's tiles not only improve the visual attractiveness of a space but also ease the responsibilities of significant maintenance.
As you embark on your design journey, consider Zextron not just as a supplier, but as a partner in transforming spaces into living works of art, where beauty and practicality converge harmoniously.