The selection of tile size has a considerable impact on the look and utility of the space in the complex world of interior design. The continuous argument over huge slab tiles versus small size tiles emphasizes how crucial it is to choose the proper tile proportions for various situations.
This article aims to present a thorough comparison of the benefits and factors related with both huge slab tiles and tiny size tiles because every area has its own distinct charm and requirements. This comparison will help you make an informed selection that is catered to your design goals.
Advantages of Large Slab Tiles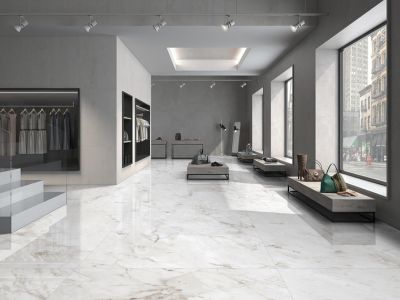 Visual Impact
Large slab tiles have the intrinsic capacity to make a great visual impact due to their large surface area. Even the smallest places acquire an air of grandeur thanks to the consistency of these tiles, which give them an astonishing scale. They are a potent design technique because they give the impression of space in spaces, creating an air of openness that changes how we perceive our environment.
Low Maintenance
Large slab tiles' low maintenance requirements are one of their distinguishing qualities. Because there are fewer grout lines, there is less dirt accumulation, which simplifies cleaning. When there are fewer joints to worry about, maintaining the tiles' immaculate appearance becomes much easier. Those looking for both ease and style in their design choices will like this feature.
Modern Aesthetics
The clean, continuous expanse of huge slab tiles complements modern design ideas. Their basic charm and clean lines suit contemporary environments, creating a unified and uncluttered appearance. Large slabs readily transform into a canvas for sleekness and refinement, making them a choice that resonates with those who embrace today's aesthetics.
Fewer Grout Lines
The distinct advantage of large slab tiles is that they have fewer grout lines. This feature helps to create a smooth and streamlined appearance by offering a clean and unbroken surface. The absence of visual impairments contributes to the overall attractiveness of the area, producing an air of effortless beauty.
Streamlined Installation
The importance of huge slab tile installation efficiency cannot be overstated. Because of their size, they cover more area with fewer tiles, resulting in less installation time and effort. This aspect not only benefits people who desire time-saving solutions, but it also ensures that your design project is completed more quickly.
Advantages of Small Size Tiles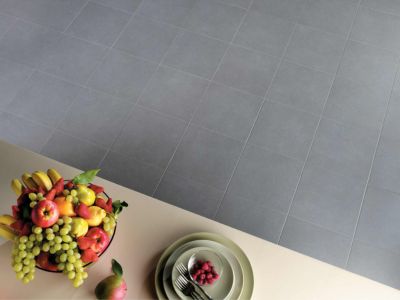 Design Flexibility
Small tile sizes provide a world of design possibilities. These promote the suitability of intricate patterns, mosaics, and bespoke designs that give a room a unique individuality. From geometric symphonies to individual artwork, little tiles allow you to express yourself in ways that larger slabs may not allow.
Budget-Friendly
For those mindful of their budget, small size tiles are a practical choice. Their potentially lower cost per tile means you create stunning designs without compromising your financial plans. This affordability opens up opportunities for stylish transformations that fit a variety of budgets.
Versatile Applications
Small size tiles are known for their adaptability across a wide range of spaces. The tiles in the kitchen all the way to be accommodated to the bathroom, find themselves at home in various environments. These are seamless blends of versatile applications into different design concepts, making them a dependable choice for homeowners and designers alike.
Ease of Replacement
The major advantages being the replacement of a particular tile without damaging the surface, the cracked or stained tile can be readily replaced. This feature simplifies maintenance and repairs while also providing a level of assurance for long-term durability.
The choice between these tiles is a personal decision, yet the configuration demands careful consideration of both functional needs and aesthetic preferences. Large slab tiles make a bold visual impact, offer low maintenance, align with modern aesthetics, and boast streamlined installation. On the other hand, small size tiles offer design flexibility, budget-friendly options, versatile applications, and the convenience of individual tile replacement.
Conclusion
The final decision lies with the client, who obviously takes the pick for their space. With expert designers at your service, they present you with the vision of intricate design objectives and the demands of your space. Once equipped to make a decision, it not only improves the beauty of your surroundings. But also assures a harmonic fusion of style and utility by balancing the benefits and considerations discussed in this blog.
Doesn't matter whether your choice is for the grandeur of large slabs or the creative potential of small tiles. What matters is the flooring choice is a testament to the art of crafting spaces that resonate with both aesthetics and functionality. Who better than industry experts being at your service?
Zextron Emerges As A Guiding Light In The Large Slab Tiles Landscape
Zextron seamlessly bridges the space between innovation and promising elegance to the industry. They have unwavering commitment and strong principles which help us cater the best. Such duality in their offerings is why they speak volumes about their dedication to meeting diverse design needs.
Zextron's tiles are more than just flooring; they are a testament to the art of creating spaces that harmonize aesthetics and functionality. By providing options that embrace versatility, durability, and style, Zextron empowers you to craft environments that stand the test of time.
As you embark on your design journey, let Zextron be your partner, guiding you toward a choice that not only adds beauty to your space but also defines the very essence of design excellence. With Zextron Ceramica, your spaces will transcend mere existence, becoming masterpieces of artistry and innovation.