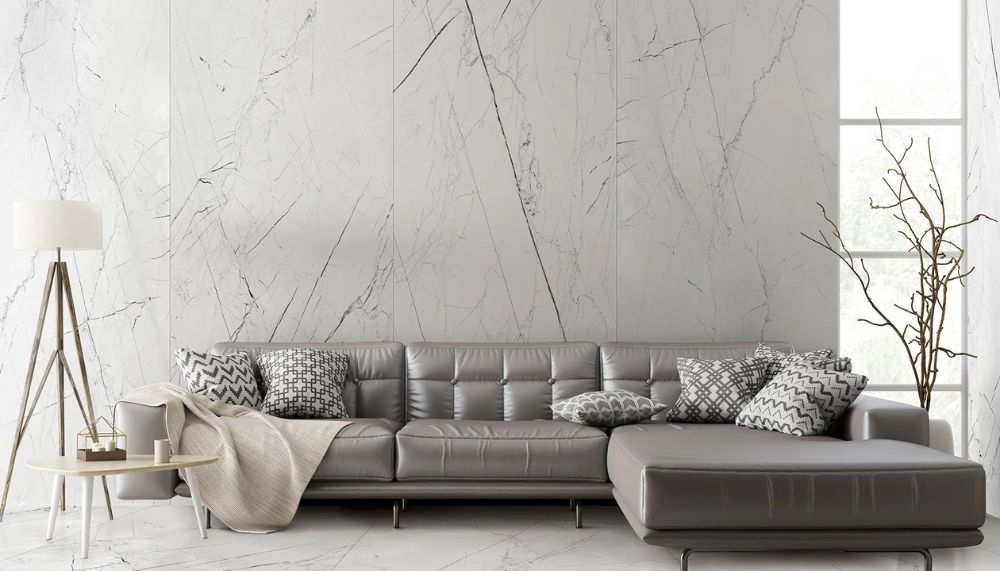 The dynamic field of interior design demands innovation. With every changing eye, the vision differs in how we view beauty and practicality. Slab tiles have distinguished themselves as a spectacular option among the variety of design components accessible, taking interiors to new levels of elegance and usefulness.
This blog examines the benefits of choosing slab tiles for your design projects, emphasizing their opulent beauty, visual expansion effects, durability and more. Let's begin.
Why Choose Slab Tiles for Your Space?: 5 Reasons
1. Luxurious Beauty
The opulent beauty of slab porcelain tiles has the innate power to enchant. These are larger and smoother than any of the regular tiles, giving the room a sense of opulence and grandeur. These tiles elevate the commonplace, transforming floors and walls into works of beauty. Spaces are transformed into aesthetically stunning works of art thanks to the uninterrupted stretches of intriguing patterns and textures made possible by the minimal grout lines.
Whether you choose the modern attractiveness of concrete or the classic elegance of marble, slab tiles give any space a feeling of sophistication that never fails to make an impact.
2. Visual Enlargement
The slab porcelain tiles aesthetically expand the illusion of space is one of their most outstanding features. Their expansive surfaces give the impression of space, making areas seem bigger and more open. In smaller locations when making the most of the available space is essential, this effect is especially beneficial.
Slab tiles can instantaneously change how we see our surroundings by bringing a sense of freedom and airiness to spaces. Even the coziest niches can become places of limitless promise thanks to slab tiles' smooth space connections and elimination of visual clutter.
3. Durability and Longevity
Slab porcelain tiles shimmer in this area, which is still the focal point of design. They are made with precision and durability to resist the pressures of daily life. Also, due to their sturdy design, can withstand severe wear and tear without losing their quality.
The slab tiles are employed in both peaceful residential and bustling business settings, the reason being their strength. They serve as an investment in timeless beauty that endures the test of time and pays homage to both form and function.
4. Low Maintenance
The slab tiles carry elegance with their most regarded advantage being low maintenance. These are especially appealing to busy households and business areas where efficiency is critical. The elegance of these tiles are combined with the ease of maintenance, achieving a balance between beauty and functionality.
5. Modern Aesthetics
The slab porcelain tiles have the most prominent looks that complement the modern aesthetic. Their unique property is highly integrated with contemporary design sensibilities. Their sleek, uncluttered appearance complements modern aesthetics, making them a preferred choice for those drawn to minimalism and clean lines.
The tiles appear sleek making it possible for surfaces to be integrated seamlessly. Slab tiles may easily provide a touch of fineness, thereby resonating with current design trends in spaces. Whether your design objectives lean toward a sleek urban loft or a minimalist sanctuary.
6. Application Possibilities
These touch the space and they appear to become myriad spaces. For example in kitchens, slab tiles create sleek countertops and backsplashes that exude both style and functionality. Bathrooms are transformed into spa-like sanctuaries, with slab porcelain tiles adorning walls and floors in seamless splendor.
Living spaces gain from the opulence that slab tiles impart, upgrading ordinary encounters. Their adaptability extends to outdoor environments, where they elevate patios and poolside areas with a touch of luxury. There are a multitude of options with slabs that are as varied as the tiles.
Conclusion
Having the material chosen that has both aesthetically pleasing and long-lasting properties puts the variations to the test. Slab tiles are evidence of the seamless blending of aesthetics and utility. They are a fascinating option for any design project due to their opulent beauty. While their capacity to visually enlarge spaces, durability, low maintenance, and contemporary aesthetics.
Consider the profound impact that slab porcelain tiles can have on your spaces, empowering you to create environments that are not only captivating but also built to last. Whether for residential sanctuaries or commercial showcases, slab tiles offer a canvas for your creative aspirations. Leaving a lasting impression on elevated spaces to new heights of sophistication and allure.
About Us
Zextron Ceramica transforms design aspirations into tangible realities providing the right type of tiles for your beloved space. The fusion of opulent beauty, spacious grandeur, unwavering durability, low-maintenance practicality, and contemporary elegance makes our slab tiles a testament to the brand's dedication to delivering unmatched quality.
We don't merely offer tiles; we offer the means to craft environments that resonate with luxury and sophistication. From sprawling living areas to intimate bathrooms, every space gains a touch of allure and longevity that sets us apart.
Let Zextron be your partner in creating spaces that are not only beautiful but also a testament to the seamless fusion of design and quality.