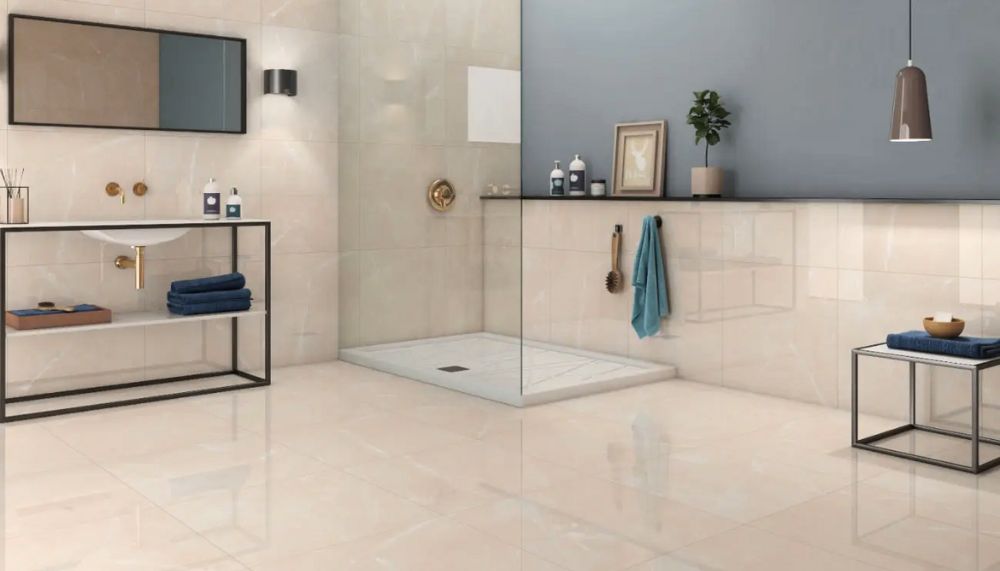 When it comes to designing or renovating our homes, the most crucial part is flooring as it creates a setting for the overall ambiance and style. Among the various flooring options, 600x600 floor tiles have gained immense popularity for their aesthetic versatility and modern appeal. These large-format tiles ace the transformation of space with their seamless appearance.
But like any other flooring choice, they come with both advantages and disadvantages. In this blog, we have reviewed the pros and cons of using 600x600 porcelain tiles in your home to help you make an informed decision.
Advantages and Drawbacks of 600x600 Floor Tiles
Pros of 600x600 Floor Tiles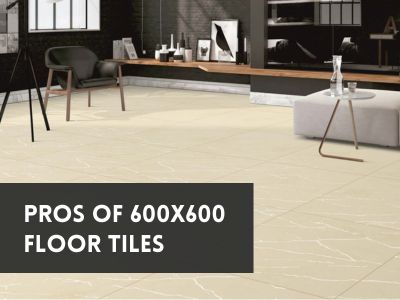 1. Spacious Feel
The highly significant advantage of 600x600 floor tiles is the illusion of a more spacious room. When lesser grout lines are compared to smaller tiles, the room lands a seamless surface creating an expansive look. Rooms tend to appear larger than they actually are. Such an effect is especially beneficial for creating an illusion in smaller living areas or rooms with limited natural light, adding an open and airy feel to the space.
2. Easy Maintenance
The 600x600 floor tiles maintenance sounds like a tardy task but proves relatively simpler. Their large size and smoother surface are easy to clean and maintain. There are fewer areas that accumulate dirt and grime, and considering the lesser number of grout lines, upping your cleaning work feels like a breeze.
Regular sweeping and occasional mopping helps the tiles look clean preserving their pristine nature. Moreover, the major property of tiles is stain resistance, these make them an ideal choice for high-traffic areas like kitchens, and bathrooms or homes with children and pets.
3. Modern Aesthetics
The 600x600 porcelain floor tiles elevate the room with its sleek and contemporary appearance. These have made them popular for homeowners looking out for a modern and sophisticated vibe. Where these also allow you to create a unique intricate design that complements your interior decor. Whether you opt for a porcelain, ceramic, or natural stone look, this category of tiles adds a touch of elegance to any and every room they are placed in.
4. Installation Efficiency
Talking about the prime advantage of efficiency in installing procedure, the 600x600 floor tiles are fitted with ease. The tiles require a smaller number of pieces to cover a given area. Thereby, effectively reducing the time taken and manual effort required for installation. Additionally, the large-format tiles are easier to handle and position compared to smaller tiles and are well-suited for DIY projects, as they.
5. Durability and Longevity
The durability and long lifespan of the porcelain 600x600 floor tiles are talked about highly. These high-quality tiles are made to withstand heavy foot traffic, resist scratches, and endure everyday wear and tear. These tiles' longevity makes your investment in durable floor tiles worth it.
Cons of 600x600 Floor Tiles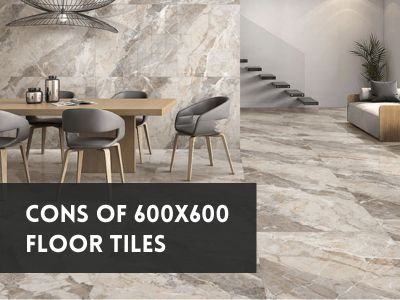 1. Limited Pattern Options
The sleek and modern appearance of the 600x600 floor tiles is appreciated, along with their larger size, which may limit the availability of intricate patterns and designs. Some homeowners prefer the versatility of smaller tiles for creating unique floor layouts, mosaics, or intricate designs. If you are looking for a tile with insanely decorative flooring options, there may be better choices than larger tiles.
2. Alignment and Leveling
Properly installing 600x600 floor tiles must be challenging for novice DIY enthusiasts or inexperienced contractors. As it requires a high level of precision, as any misalignment or unevenness will be more noticeable than with smaller tiles. To achieve a flawless finish, you must look for experts who understand your craft and their work. A tip for you, it's crucial to ensure the subfloor is level and properly prepared before installation.
3. Grout Maintenance
Yes, the 600x600 porcelain floor tiles must have fewer grout lines and is a pro option for easy maintenance. Though, the grout lines in 600x600 porcelain tiles still require regular maintenance with a good cleaning to prevent dirt and stains from accumulating. Particularly, the light-colored grout is susceptible to discoloration over time, necessitating routine upkeep for the floor to look new.
4. Challenging for Smaller Rooms
Challenges are also posed when the 600x600 floor tiles are put up in smaller rooms or narrow hallways. These may not be the best choice as large tiles can overwhelm the space and create an unbalanced look. Smaller tiles are often a better option for narrow areas, as these create a more proportionate and visually appealing layout.
5. Higher Tile Cost
The smaller tiles take the win when compared to the costings along with the 600x600 porcelain floor tiles, as these are more expensive per square foot. Additionally, if there are any changes or tweaks in design or breakage, the costs become more significant. Fewer tiles are to be installed across the space and costs notch up higher than usual. The higher cost usually breaks the budget-conscious homeowners. Especially the ones who take up the 600x600 floor tiles for larger flooring projects be it huge spaces or homes.
Frequently Asked Questions (FAQs):
What is the average 600x600 floor tiles price in India?
The average price for these floor tiles in India varies widely based on material, brand, and quality but can range from ₹60 to ₹280 per square foot.
How to lay 600x600 floor tiles?
To lay these floor tiles, start with a clean and level surface, apply thin-set adhesive, align and set the tiles, use spacers for consistent spacing, and finish by grouting once the adhesive has dried.
Can I install 600x600 floor tiles in a small bathroom?
Yes, you can install. But consider the size and layout to ensure they fit aesthetically. Larger tiles can make a small space appear more open.
How to cut 600x600 floor tiles?
Cut 600x600 floor tiles using a tile cutter, wet saw for curved cuts. Measure carefully and wear safety gear while cutting.
What grout size is preferable for 600x600 floor tiles?
A 1/8-inch to 1/4-inch grout size is commonly preferred for 600x600 porcelain floor tiles. Smaller grout lines create a more seamless look, while larger ones can add contrast and durability.
Conclusion
Offering a plethora of benefits, the 600x600 floor tiles include a spacious feel, easy maintenance, modern aesthetics, and ease of installation efficiency. They fall within the popular range due to their durability, ensuring their lifespan for years to come.
Adding them to the list of popularity comes as a worthwhile investment. These fall into the category with a variety of options, though they have limited patterns to choose from. Also, the peak challenge lies in the alignment and leveling during installation, which comes with the higher cost associated with these tiles.
Choosing 600x600 tiles for your home can be a daunting task. When evaluating the specific needs of a particular space and one must carefully match the characteristics of each room. Going for a sleek and contemporary appeal of tiles or opting for other flooring alternatives? All that matters is, selecting the right flooring for your home.
Know About Us?
Zextron Ceramica 600x600 porcelain tiles offer a compelling range of benefits that can transform your home into a contemporary and stylish living space. Nevertheless, it's essential to consider the specific needs and characteristics of each room before making a decision, as we aim to be the expert at your service, providing you with the best flooring solutions for your home.
Choose Zextron for our exquisite flooring options at your service!