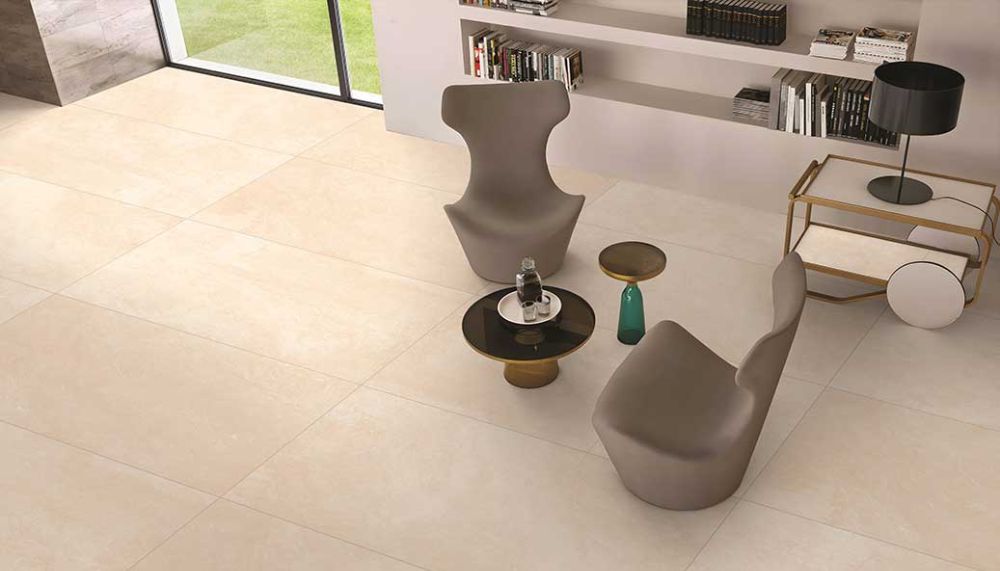 Large format tiles have revolutionized modern-day home decor with their alluring beauty and high endurance. Porcelain tiles, particularly of size 80x160, are at the forefront of this revolution and stealing the hearts of homeowners and interior designs with their grand dimensions and opulent design. These tiles notably add sophistication to the home atmosphere by providing open-concept layouts. In recent years, porcelain tiles 80x160 have been favorably used by lots of customers for different applications.
But what are the ultimate advantages of this particular size range and is it really beneficial to use them for your decor? Through this blog, we will help you to find the answer for the same by exploring various advantages of 80x160 porcelain tiles. So, are you ready? Let's get started.
Top 4 Advantages of Porcelain Tiles 80x160
1. Size And Visual Impact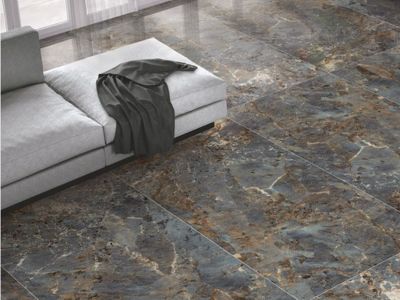 Porcelain tiles 80x160 hold the capacity to dramatically elevate the visual elegance of a room. Their expansive format creates a cohesive look and eliminates cluttered space for a more clean and pleasant-looking atmosphere. That's why 80x160 tiles serve visual continuity to the space and build up a seamless appearance.
Having a large and expansive surface area, 80x160 tiles are able to create unbroken and flawless horizons that make the interior stand out to catch the eye at first sight. It also harmonizes the floor and walls with other decorative elements to establish a subtle and warm environment.
Therefore porcelain tiles 80x160 provide a suitable choice to merge aesthetics with functionality. Their grandeur not only results in bold design but also provides a practical enhancement to the spaces.
2. Minimal Grout Lines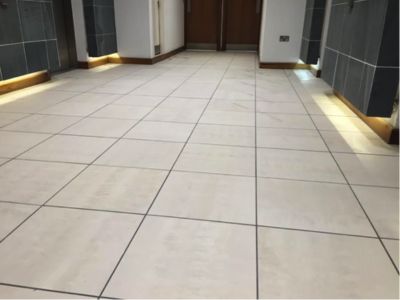 Porcelain tiles 80x160 build a seamless decor as they are able to provide you with a continuous surface due to minimal grout lines. Having extensive surface area coverage, these tiles can easily fill up your whole space with fewer tiles in comparison to standard tile sizes. That's why 80x160 tiles reduce the number of joint lines and form a cohesive appearance.
The seamless continuity not only serves a pleasant look but is practically beneficial by creating a feel of visual spaciousness. Porcelain tiles' large formats add a sense of depth and dimensions to the space that will help you improve the optical comfort of your room. Simply put, it will create an illusion of larger and more comfortable spaces typically advantageous for small and cluttered spaces.
For larger spaces, their visual continuity can make a room feel more open, spacious, and modern. Whether used on floors, walls, or countertops, these large tiles contribute to a balanced design by reducing visual clutter and enhancing the flow of the space.
3. Versatility in Design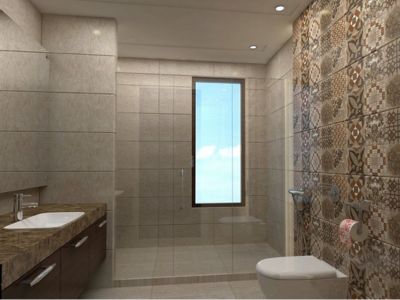 Large format tiles made of porcelain give an extensive range of choices in terms of designs, patterns, and colors to bring your dream decor to life. Porcelain tiles 80x160 being on the same track come up with a massive range of design possibilities starting from stunning natural footprints to designs that relate to modern sophistication.
Nature's Bliss: The 80x160 tile stole the market due to the availability of diverse designs that perfectly mimic natural products like wood, stones, and marble. With the span of tiles natural decor options are decreasing in functionality as a non-sustainable idea. But at the same time, people love the calm and cozy atmosphere provided by these decor materials. In this scenario, porcelain tiles emerge as the best choice, offering robust variants to meet the demands of the situation.
These variants typically mirror the beauty of natural materials and become a preferable choice against unsustainable decor options. Some examples of such designs are wood look porcelain tiles, stone look porcelain tiles, marble look porcelain tiles and more.
So whether you need a calm and serene atmosphere in your home or a vintage appearance for your decor, these types of porcelain tiles will help achieve them all.
Modern Transforming: Are you looking to embrace the latest trends and elevate your home aesthetics with a touch of fashion and glamour? Then you must go with the modern variants of porcelain tiles 80x160. Experience an enhanced sense of spaciousness and luxury as every detail and interior is accentuated by the exquisite fine finish and timeless appeal.
For example, the 80x160 matte finish porcelain tiles provide you with a minimalist look by creating the interplay of neutral hues and lighting. Dark and bold colors appear to be vibrant and bring the glamor out from the surface to enhance your overall decor. These tiles are a perfect choice for larger spaces to create a sense of cohesion and build a seamless transition from one end to another.
4. Wide Range Of Applications And Easy Accessibility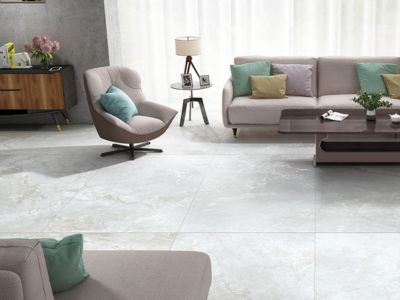 Comfortable Living spaces: Large format 80x160 tiles showcase a wide range of application possibilities and can be used in different spaces. Their adaptability to diverse spaces makes them a straightforward choice for both homeowners and interior designers.
Creating a visually contrasting and appealing decor, porcelain tiles are extensively used for living room and bedroom floorings. It helps you build an inviting atmosphere for your guests and leave a long-lasting appearance. Its durability also provides an edge in such high foot traffic areas to prevent cracks and damages.
Luxurious Kitchens: Easy cleaning options for porcelain tiles can drastically transform your kitchen into a hassle-free and inviting space. Porcelain tiles are naturally resistant to stains, spills, and moisture, making them an ideal choice for kitchen surfaces. With their smooth and non-porous surface, a quick wipe with a damp cloth or mild cleaning solution is all it takes to keep them looking pristine.
This convenience not only saves you time but also ensures your kitchen remains a hygienic and elegant environment. Say goodbye to tedious scrubbing and hello to a sparkling kitchen that effortlessly combines style and functionality.
Safe Bathrooms: Porcelain tiles are also well known for their impervious nature and water-resistant properties. These tiles have a water absorption rate of even less than 0.5% and build a hygienic and safe atmosphere for your spaces. That's why porcelain tiles 80x160 are one of the preferred choices for bathrooms. Porcelain tiles will make your bathroom safer due to their slip-resistant qualities and transform it into an easily accessible space.
Conclusion
In summary, we can say that porcelain tiles 80x160 are undoubtedly a perfect choice for transforming your spaces into an urban oasis. Its countless advantages will make your home more comfortable, safe, and accessible to form a perfect living space. Their grandeur and high-end durability will hold the beauty for generations and make it everlasting. But tiles' ultimate beauty underlies in their quality.
Therefore selecting a renowned manufacturer becomes definite for accessing the full advantages of porcelain tiles. The best quality porcelain tiles will help you build the home of your dreams.
About Zextron International
Zextron International is India's leading manufacturer in the ceramic industry located in Morbi, Gujarat. We proudly offer a comprehensive array of porcelain large format tiles that truly redefine the standards of excellence.
Embark on a journey through our diverse product range today, and immerse yourself in the captivating allure. Experience the magic for yourself – explore our collection now!