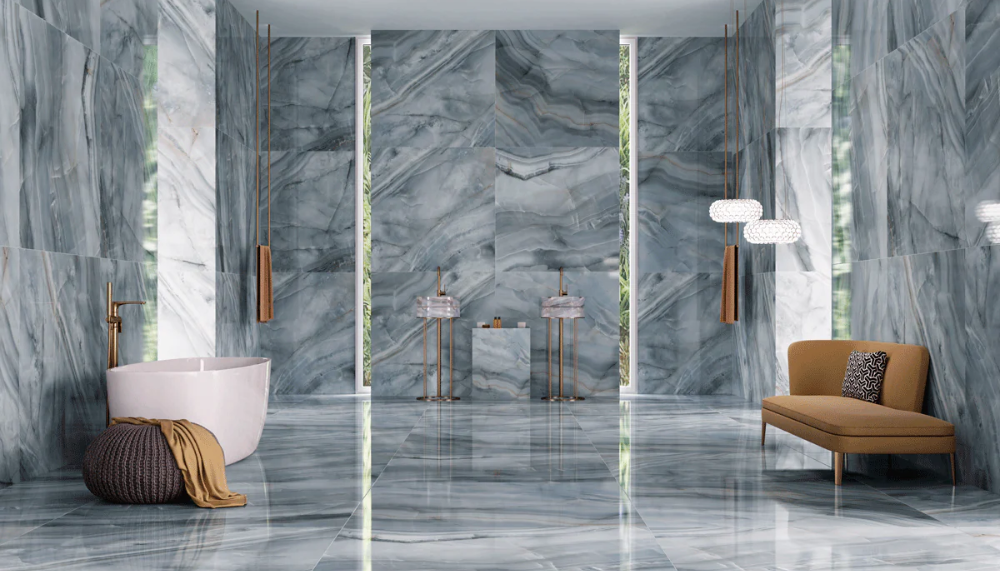 Designing a bathroom comes with crucial choices while opting for the right materials. One of the most popular choices for bathroom flooring and walls is porcelain tiles. Porcelain tiles are renowned for their tough durability, wide versatility, and huge aesthetic appeal.
With them offering an extensive range of options to suit different styles and preferences, they're the best pick. You must consider the style, size, and maintenance needs when choosing the right tiles for your bathroom.
In this blog, we will delve into the various types of porcelain tile for bathrooms specifically designed for the area alone. Right from the textured and polished tiles for floors to matte and glossy tiles for walls, let's explore the characteristics and benefits of each. We here are glad to be helping you select the best tiles for your bathroom and make informed decisions to create your dream bathroom space.
Types of Porcelain Tile for Bathroom Floors
Porcelain tiles for bathroom floors must have textured surfaces that offer slip resistance, while the porcelain polished tiles add a touch of luxury to the room. Wood-look tiles provide a natural aesthetic without the maintenance of real wood, and the marble look porcelain tile adds elegance without additional costs.
Textured Porcelain Floor Tiles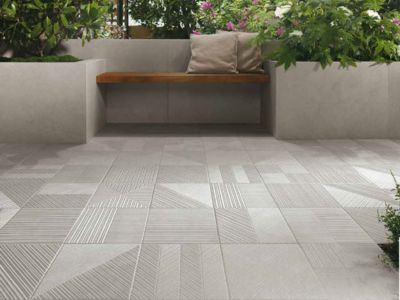 Such tiles are designed with a textured surface excelling the slip resistance, which makes them ideal for wet areas like bathrooms. The texture not only adds a decorative element but enhances safety by preventing accidents caused by slippery floors. Textured porcelain floor tiles are designed in various patterns and designs, offering both style and functionality.
Polished Porcelain Floor Tiles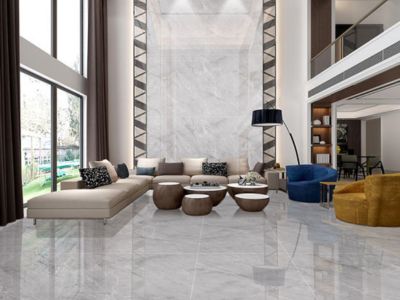 Creating a luxurious and elegant bathroom has never been this easy before. The polished porcelain tiles for bathroom floors serve as an excellent choice. These tiles have a shiny and reflective surface that adds a touch of sophistication to any space. These porcelain bathroom floor tiles are highly durable and resistant to stains, allowing you to easily clean and maintain them, without any hassle.
Wood Look Porcelain Floor Tiles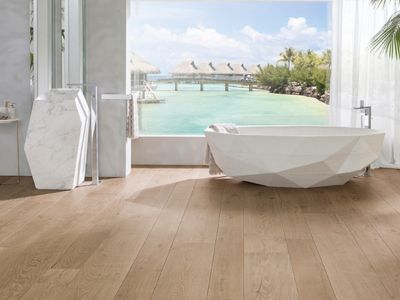 Warm and natural looks are trendy these days. Eliminating maintenance issues, and providing you with the feel, the wood look porcelain floor tiles are the perfect solution. These porcelain bathroom floor tiles mimic the appearance of real wood and have ample colors and textures to choose from. These offer the beauty of the wood while providing the durability and water resistance ability of porcelain, adding them to the desirable list of modern bathroom tiles.
Marble Look Porcelain Floor Tile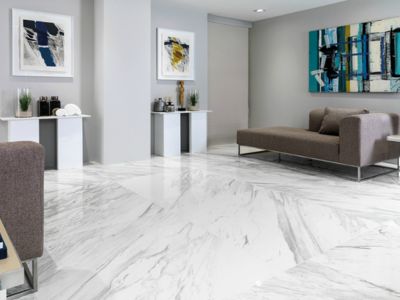 Marble is a timeless and luxurious material often used in high-end bathrooms. However, real marble can be expensive and require regular maintenance. The marble look porcelain tile dominates being an affordable alternative that replicates the elegance and beauty of marble without the high costs. These types of tiles for bathrooms are available in attractive shades and veining patterns, allowing you to achieve a luxe look and feel in your bathroom.
Types of Porcelain Tile for Bathroom Walls
Porcelain tiles for bathroom walls offer diverse options. Matte tiles create a subtle look, while glossy tiles add boldness and reflect light. Mosaic tiles provide texture and visual interest. Let's some popular porcelain tiles types that you can use on bathroom walls.
Matte Porcelain Wall Tiles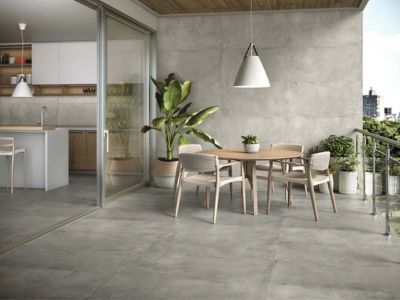 Matte porcelain tiles are an excellent choice if you give preference to a subtle and understated look. The types of bathroom tiles have a non-reflective surface adding a touch of fine sophistication without being too bold. These bathroom porcelain tiles are also easy to clean and maintain, making them a practical option for bathrooms.
Glossy Porcelain Wall Tiles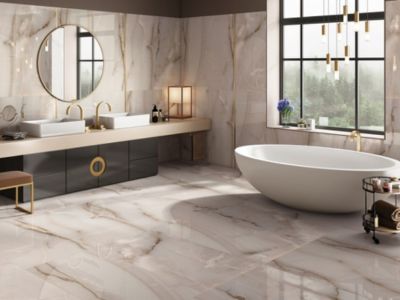 A bold and eye-catching bathroom can be created with glossy porcelain tiles. Such tiles have a reflective surface that can bounce light around the room, while space appears larger and more vibrant. Glossy porcelain tiles are available in a wide range of colors and finishes, allowing you to create a personalized and visually stunning bathroom.
Mosaic Porcelain Wall Tiles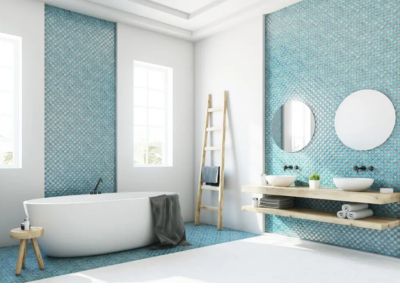 Small tiles arranged in crafty patterns or designs, adding textures and visual interest to your bathroom walls are mosaic porcelain tiles. They have wide range of wide range of colors, shapes, and sizes helping create intricate designs for a detailed fancy look or simple accents for a defined look. The tiles offer endless possibilities for creativity and can be used to highlight specific areas of your bathroom.
How To Choose the Right Porcelain Tiles for Your Bathroom?
Selecting the best types of porcelain floor tiles for the bathroom can be a daunting task. There are several factors to consider before jumping the gun. Start with the size of your bathroom, and incorporate style options that complement it. With larger bathrooms accommodating bolder and darker tiles, lighter-colored tiles suit the smaller bathrooms and help create an illusion of more space.
When it comes to the aesthetic of a place, you must never miss out on your gut feelings, personal preferences and your heart. Practical considerations are considered important when it comes to picking the porcelain tile for the bathroom. Floor tiles must prioritize being slip-resistant to prevent accidents in wet areas.
Porcelain tiles offer numerous options to create beautiful and functional bathrooms. Every preference has a list of porcelain tile to suit your style from as textured, polished, wood-look, or marble look porcelain tile. The matte, glossy, and mosaic porcelain tiles provide different visual effects for bathroom walls.
Frequently Asked Questions (FAQs):
Which tiles are best for the bathroom?
Porcelain and ceramic tiles are excellent choices for bathroom floors and walls due to their durability and water resistance.
Is porcelain slippery on a bathroom floor?
Porcelain tiles can be slippery when wet, but choosing textured or slip-resistant varieties helps mitigate this issue for bathroom floors.
Why are porcelain tiles best for the bathroom?
These tiles are ideal for bathrooms because they are highly water-resistant, durable, and available in various styles, making them a practical and aesthetically pleasing choice.
Is porcelain tile good for bathroom walls?
Yes, porcelain tile is suitable for bathroom walls. Its water resistance and versatility make it an excellent option for both floors and walls, providing a cohesive and functional bathroom design.
Zextron Ceramica - Your Final Destination for Porcelain Tiles
Zextron Ceramica understands the diverse needs of homeowners when it comes to bathroom design. Our high-quality porcelain tiles are crafted using state-of-the-art technology to create a paradise-like atmosphere in your bathroom. We have experts who design the perfect options to suit your style and requirements in the section porcelain tiles for bathrooms in India.
Our bathroom tiles designs are not only visually appealing but also easy to maintain and clean, making them ideal for busy bathrooms. We prioritize both form and function, ensuring that our tiles offer long-lasting charm and durability. With our high-quality porcelain tile for the bathroom, you can create a stunning bathroom that reflects your style. Experience the difference in our superior technology and explore our diverse range of options to elevate your bathroom.
Let your bathroom become a sanctuary of style, elegance, and durability with Zextron Ceramics' top-notch quality and superior porcelain bathroom tiles.