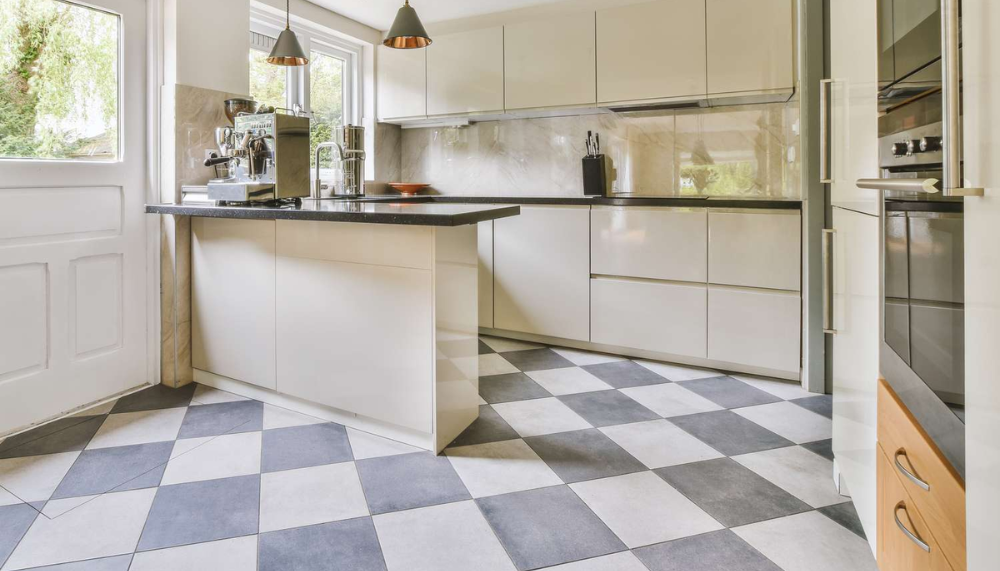 Setting the overall tone and style of the space when it comes to designing the kitchen depends on the flooring aesthetic. While, Porcelain tiles have become a popular choice for kitchen floors due to their durability, versatility, and aesthetic appeal, these also provide a wide set of options to choose from.
Beyond the material and options to choose from, the pattern of the tiles significantly impacts the visual interest and overall impact of the kitchen. In this article, we discover the popular patterns for porcelain tile for kitchen and how they complement your aesthetic, elevating the design of your culinary space.
Popular Porcelain Tile Patterns for Kitchen Floors
The popular options kick off from some classic checkerboard and herringbone patterns to intricate basketweaves and dynamic diagonal patterns. Let's take a view of each of them in detail.
1. Herringbone Pattern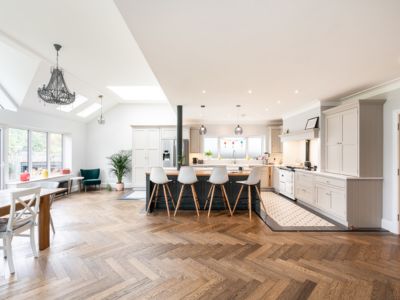 The herringbone pattern, a classic design is chosen to induce a sense of sophistication and elegance to any kitchen. The pattern features zigzag-aligned rectangular tiles, giving the space a dynamic effect.
The patterns be sized according to your preferences, allowing you to customize the scale to suit your kitchen's proportions. Such pattern works particularly well in traditional or transitional kitchen styles, giving them a touch of timeless charm.
2. Checkerboard Pattern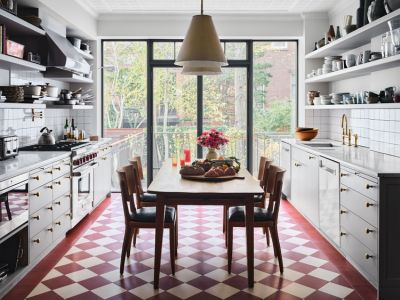 The pattern is a timeless favorite appealing to everyone with a striking and stylish look. These have alternating squares contrasting two typical colors, say black and white.
The checkerboard pattern is versatile and works well in modern and traditional kitchen designs. A retro charm is added to the space delivering a clean and classic aesthetic. The monochromatic pattern also be created using different shades of the same color, offering a more subtle and contemporary twist.
3. Basketweave Pattern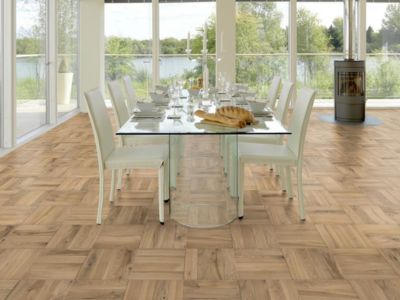 This pattern features rectangular tiles arranged in a woven like pattern, creating a sense of texture and depth. Tiles of the same color or contrasting colors are used to achieve a basketweave pattern more pronounced. Elegance and complexity are added to the kitchen, which is ideal for those seeking a unique and interesting flooring option.
4. Diagonal Pattern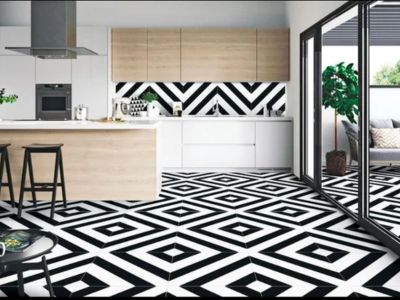 A simple yet effective way to add movement and flow to a kitchen floor. This pattern involves installing rectangular tiles diagonally instead of the traditional horizontal or vertical alignment.
These help make a small kitchen appear larger by drawing the eye along the lines of the tiles. A sense of dynamism is added to the space and works well with various kitchen styles, from contemporary to traditional.
How To Choose the Right Pattern for Your Kitchen?
Porcelain tile for the kitchen seems like a tedious task with several factors to be considered. We at Zextron Ceramics come to your rescue. Include different patterns that work better with specific design aesthetics.
The herringbone pattern complements traditional or transitional kitchens, while the checkerboard pattern adds a retro touch complimenting both modern and traditional kitchens. Knowing how the pattern will harmonize with the existing elements in your kitchen, such as cabinetry, countertops, and backsplash is why you require experts at work.
Additionally, your personal preferences play a crucial role in the pattern of kitchen porcelain tiles selection process. Some individuals lean towards bold and eye-catching patterns, while others may go for subtle and simple patterns. The pattern must resonate with your style to enhance the overall ambiance you want to create in your kitchen.
A combination of a herringbone pattern with a basketweave pattern in complementary colors creates a stunning focal point in the kitchen. These are for the individual who likes going wild with their spaces and creating art.
Experimenting and creating different patterns to add personality and character to your kitchen is the highlight of the process. Being cautious and implementing patterns complement each other rather than competing for attracting attention is one of the most important decisions to make for kitchen designs.
Wrap Up
Porcelain tile for kitchen offers patterns with a world of possibilities when it comes to piquing the visual interest and raising the impact of your kitchen. The herringbone pattern exudes elegance, the checkerboard pattern provides a timeless appeal, the basketweave pattern adds texture and depth, and the diagonal pattern brings movement and flow.
Remember, the kitchen floor sets the foundation for the overall design, so selecting the right pattern is crucial. Embrace the opportunity to mix and match patterns to create a unique and captivating space. With the versatility and durability of porcelain tiles, you achieve a kitchen floor that not only withstands the demands of everyday life but also makes a lasting visual impression.
Zextron Ceramica - A Leading Provider Of Porcelain Tiles
Our team of experts understands the importance of offering the most suited patterns for the best selection for kitchen projects. Our streamlined manufacturing process ensures that our kitchen porcelain tiles not only enhance the aesthetics but also provide a timeless charm to your kitchen.
Porcelain tile for kitchen patterns has become an essential element in creating visual interest and impact in kitchen flooring. Contemporary kitchen styles are the dominating trend homeowners are going crazy with porcelain kitchen tiles. Their exquisite patterns and exceptional durability have contributed significantly to the revitalization of kitchen decor.
Trust in the quality and reliability of our porcelain tiles is provided by Zextron Ceramica. We prioritize durability and seamless functionality, allowing you to enjoy a beautiful and long-lasting kitchen floor. We are committed to delivering flawless products that exceed your expectations.
Choose Zextron Ceramica and allow us to help you transform your kitchen into a stylish and functional space that will stand the test of time. Explore our exquisite range of patterns online to find the perfect porcelain tile for kitchen, that will elevate the design of your kitchen.