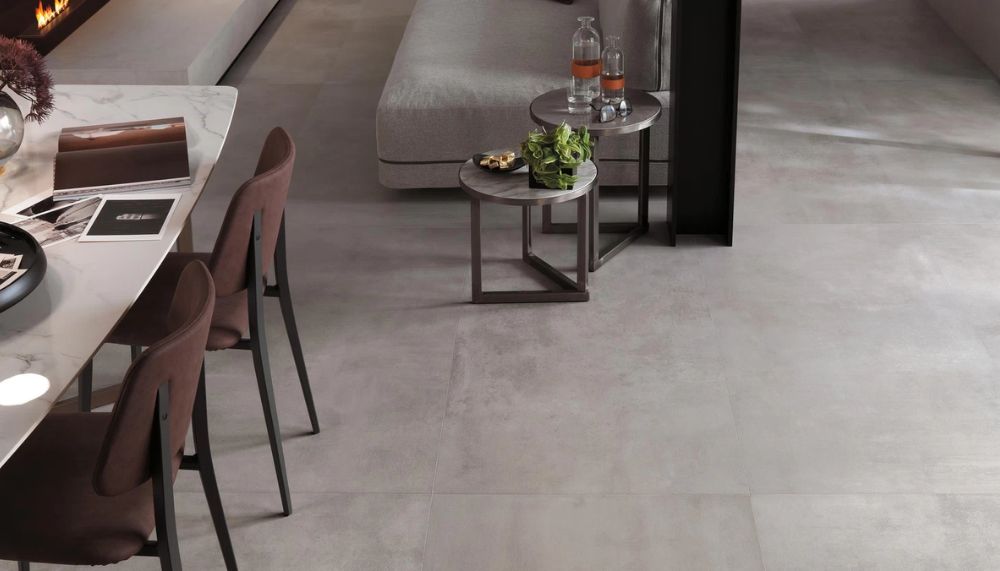 Porcelain tiles are the new identity of modern home decor. Their design and functional variability are far superior to any other flooring option. It can give your home timeless appeal and timeless elegance. But for this, it is very important to choose the right tile size. This is because porcelain tiles are available in various size options such as square (60x60 & 120x120) and rectangular (60x120 & 80x120).
That's why in this blog we have come up with an ultimate guide to the different sizes of porcelain tiles. Which will help you choose the right tile size for your space.
Exploring The Popular Sizes of Porcelain Tiles
1. Porcelain Tiles 600x600: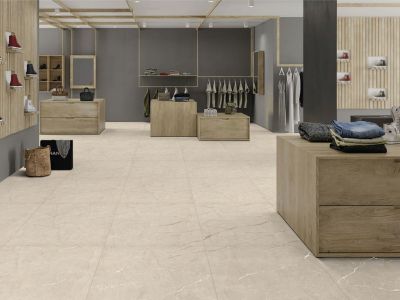 Porcelain Tiles 600x600 provides a classic symmetrical look to your home which is very nice and pleasant in feel. Due to the square shape, it provides even texture and freshness to every space. That's why porcelain 60x60 tiles are a great choice for professional workspaces as well.
Square patterns are seamless and continue in the look that makes your home dynamic and full of art. There are a variety of patterns designed with square tiles that will convert your home into a luxurious retreat. The classic checkerboard pattern with white and black square tiles is a great example of soothing design ideas. Apart from this, you can also go with trendy marble look porcelain tiles. Its square design will give a contemporary and regal look to your interiors.
Along with the design diversity, the functional versatility of square tiles is also amazing. From stunning backsplashes to inviting flooring in the living room, you can use them in any number of ways. Square tiles are mostly preferred in commercial places for their professional look. But with the help of modern trends and designs, now a better option has been banned for new homes.
Suitable For:
Bathrooms: These tiles are often used on bathroom floors and walls due to their standard size and ease of installation.
Kitchen Floors: Suitable for smaller kitchens where a more intricate tile pattern is desired.
Entryways: Can create an attractive and durable entryway floor.
2. Porcelain Tiles 600x1200: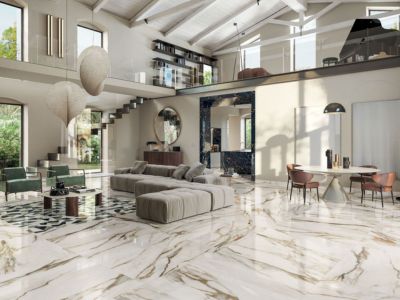 Where square tiles give you a perfectly symmetrical look, rectangular sizes give your home a perfect balance of style and versatility. Porcelain Tiles 600x1200 is the preferred choice of many homeowners and architects because of its horizontal layout. Due to its large size, it can also give spacious appeal to small home spaces.
In a narrow living room, by using rectangular tiles on the floor and walls in the same way, you can increase the visual contrast of that space. The large surface of the rectangular tiles reflects the light to a great extent and thus improves the optical spaciousness. You can also give a spa-like feel to your bathroom by using the same concept.
Talking about design versatility, you have slightly more options available with rectangular tiles than with square ones. With Porcelain Tiles 60x120 you can create amazing monochromatic vertical layouts. Rectangular tiles with a metallic look like matte finish tiles are the perfect choice for this type of design. If you want to go for something colorful, then a mosaic pattern can be a beautiful option.
Suitable For:
Large Open Spaces: Ideal for larger rooms or open spaces where fewer grout lines are desired, creating a seamless and elegant look.
Feature Walls: Can be used on feature walls to make a bold design statement.
Commercial Spaces: Suitable for upscale commercial settings like hotel lobbies and restaurants.
3. Porcelain Tiles 800x1600: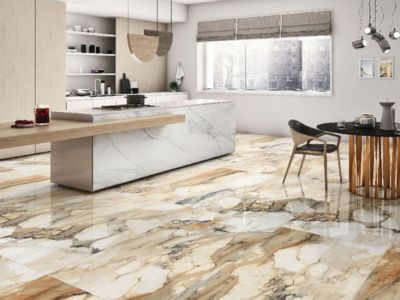 The porcelain tiles of 800x1600 size represent the slab-type designs that are generally used in large spaces and commercial projects. Their seamless beauty and high-end durability make them a great match for high-traffic areas. Being made of porcelain, they present a unique mix of functionality with beauty.
You will see very few grout lines after installation due to the larger size. For this reason, they ensure continuous and elegant beauty. Having enlarged and glossy surfaces makes the spaces visually inviting and welcoming. You can create a lot of patterns and designs with them. Stone looks large porcelain tiles are one of the best choices that create a vintage and more natural look. You can also go with trendy glazed porcelain tiles to add a modern touch to your spaces.
There is no competition when it comes to functionality. You can use them everywhere starting from a busy kitchen to the sturdy outdoors. Being made from high-quality materials, it can withstand extreme weather conditions and heavy foot traffic with ease. That's why by using it once outdoors, you can take advantage of it for years.
Suitable For:
Contemporary Interiors: These larger tiles are excellent for contemporary and minimalist interior designs, giving a sense of spaciousness.
Outdoor Spaces: Can be used for outdoor patios, decks, or around swimming pools due to their larger size and durability.
Commercial and Retail Spaces: Suitable for high-traffic commercial and retail areas.
4. Porcelain Tiles 1200x1200: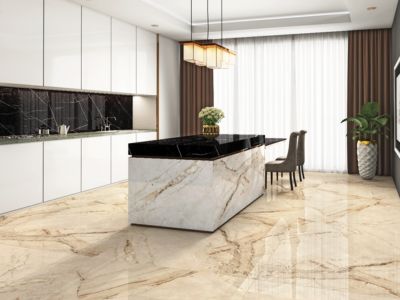 Porcelain tiles with size 1200x1200 showcase large square tiles. These tiles are generally used for commercial projects and professional workspaces. Their large square surface ensures longevity and a sober design. Despite being large in size, they are lightweight and very easy to install. For this reason, they are widely used in industrial projects.
Large square porcelain tiles offer numerous benefits in terms of design versatility and easy maintenance. Firstly, their size allows for a seamless and expansive look, creating a sense of spaciousness in any room. These tiles are available in various patterns, colors, and textures, making them suitable for a wide range of design styles, from modern and minimalist to traditional and rustic. Porcelain tiles are quite versatile and go well with any sort of design. These tiles can be used to bring a distinctive touch to any room because they are also incredibly adjustable.
Porcelain Tiles 120x120 guarantee breathtaking beauty and unmatched toughness. Due to their extensive format, they are unaffected by the high foot traffic. They are thus the ideal solution for busy homes and businesses. You can additionally apply them on outdoor patios and on the exterior surfaces of swimming pools due to their outstanding waterproof and scratch-resistant surface.
Porcelain tiles can easily withstand rigorous activities preventing cracks and they also do not absorb moisture. Cracks always lead to water accumulation in large tiles that results in bacterial growth and infection. Therefore porcelain tiles with these qualities rise at the top of the search for hygienic flooring material.
Suitable For:
Large Living Areas: Perfect for large living rooms or open-plan spaces where you want to create a sense of grandeur.
Outdoor Flooring: Can be used for outdoor patios or terraces where a modern and seamless look is desired.
Commercial Spaces: Suitable for upscale commercial settings such as luxury boutiques or high-end restaurants.
Choosing the Right Size: Factors to Consider
Porcelain tiles certainly make your home beautiful and sustainable. But it is very important to know which tile format is right for your home. When choosing the perfect tile size for your project, several factors come into play. Here are five important considerations to keep in mind:
Consider the dimensions of the room to determine the appropriate tile size based on the available space.
Choose a tile size that aligns with your desired aesthetic and complements the overall design theme.
Select a tile size based on the specific application, such as floors, walls, or decorative accents.
Take into account the maintenance requirements associated with different tile sizes to ensure ease of cleaning and upkeep.
Evaluate the installation complexity and associated costs when deciding on the ideal tile size for your project.
Why Choose Us?
Zextron Ceramica is a leading ceramic manufacturer from India, known worldwide for its innovative and highly durable porcelain tiles. We have brought to you high-quality porcelain tiles of different sizes that will be a perfect fit for your every project. Our lightweight tiles are easy to install and promise longevity. That means once you have installed them you can get benefits for generations. Pick gorgeous decor for your space from our amazing collections today. Visit our website to explore the latest collections.