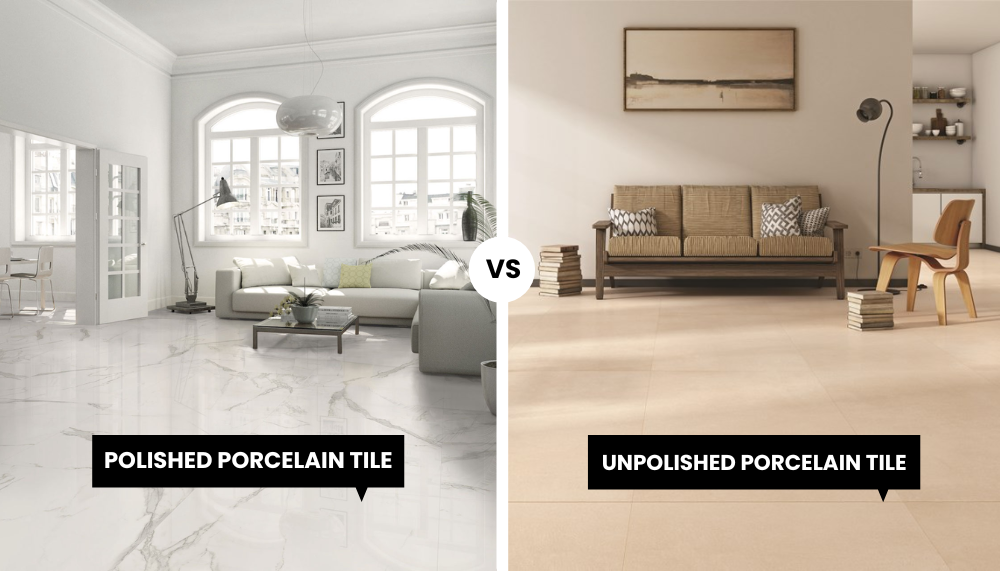 Porcelain tiles are known to be one of the most popular choices for flooring and wall coverings reason being their high durability, versatility, and aesthetic appeal. The selection process for porcelain tiles involves the major decision of whether to opt for polished or unpolished porcelain tiles. They are different in several aspects of their appearance, texture, and maintenance requirements.
In this blog, we will explore the characteristics, advantages, and disadvantages of both types of porcelain tiles. We take immense pleasure in helping individuals like you make an informed decision and choose the right porcelain tile for your cherished space. Now, let's make a decision and flaunt your aesthetic like never before.
What are Polished Porcelain Tiles?
Polished porcelain floor tiles are characterized by their glossy and reflective surface. The polishing process for the tiles involves grinding down the surface and then buffing it to achieve a smooth, glossy, and shiny finish. The result gives a sleek and modern look that enhances the overall aesthetic of any room they are installed in
Advantages
The reflective surface creates a sleek and modern look
The glossy finish of polished porcelain tile pleases the eye with an elegant and sophisticated ambiance in your space. The reflective surface adds depth and dimension, making the area appear more spacious and vibrant.
Resistant to scratches and stains
Polished porcelain tiles are highly resistant to scratches and stains, making them an excellent choice for high-traffic areas in the house or places that are prone to spills and accidents.
Easy to clean
The smooth surface of polished tiles often has the benefit of being easy to clean. Dust and dirt are quickly wiped away with ease, while regular maintenance involves simple mopping or sweeping to keep them looking as new as possible.
Disadvantages
Slippery when wet
The major drawback of polished porcelain tile is its slippery nature when it comes in contact with water or any liquid. The nature of tile makes it less suitable for areas where water or spills are common. It is important to take necessary precautions to minimize the risk of slips and falls.
High maintenance
While polished tiles come with easy cleaning, they require regular maintenance to preserve their shine. Such tiles come with high maintenance activities like periodic resealing to protect the surface and prevent dulling. Additionally, footprints and dirt are more noticeable on the glossy surface, requiring more frequent cleaning.
It may show footprints and dirt easily
Due to their reflective surface, polished porcelain tiles tend to show footprints, smudges, and dirt more easily than unpolished tiles. A slight concern may arrive for people wanting a pristine and immaculate appearance all the time.
What are Unpolished Porcelain Tiles?
Unpolished porcelain tiles, also known as honed tiles, have a more natural and textured appearance. They are created by leaving the surface of the tile unpolished, resulting in a rougher and less reflective finish.
Advantages
More slip-resistant than polished tiles
The textured surface of unpolished porcelain floor tiles provides better traction, making them less slippery when wet. These are safer options for areas where water or moisture is present, such as bathrooms, kitchens, or pool areas.
Hides dirt and footprints well
Unlike polished tiles, unpolished tiles do not show dirt, footprints, or smudges as easily. This makes them a great choice for high-traffic areas or spaces where maintaining a clean appearance is a priority.
Low maintenance
Unpolished porcelain tiles are relatively low maintenance. They do not require regular resealing or polishing to maintain their appearance. Simple cleaning methods such as mopping and sweeping are usually sufficient to keep them looking their best.
Disadvantages
More susceptible to scratches and stains
The textured surface of unpolished tiles makes them more prone to scratches and stains compared to their polished counterparts. It is important to take care when moving heavy furniture or using abrasive cleaning tools to avoid damaging the surface.
Less reflective and may appear dull
If the preference is to get a sleek and modern look, unpolished porcelain floor tiles may not provide the same level of reflectivity and shine as polished tiles. The lack of glossy finish results in a slightly duller appearance.
Not as sleek and modern as polished tiles
Unpolished tiles have a more natural and rustic look, which may not align with a sleek and contemporary design aesthetic. If you are aiming for a modern and polished look, a polished tile floor might be a better fit.
How to Choose Between Polished and Unpolished Porcelain Tiles
When deciding between polished and unpolished porcelain tiles, several factors should be taken into consideration.
Location and environment
Consider the location for the installation of tiles. If it is a wet or high-moisture area like a bathroom or kitchen, unpolished tiles might be a safer and more practical choice due to their slip-resistant properties. For drier areas like living rooms or bedrooms, polished tiles provide a more luxurious and visually appealing option.
Design and style preferences
Consider your personal design preferences and the overall aesthetic you want to achieve. If you prefer a sleek and modern look with a reflective surface, polished tiles be a great choice. If you prefer a more natural and textured appearance or have a rustic design theme, unpolished tiles complement that style.
Foot traffic and safety concerns
Evaluate the amount of foot traffic the area will receive. For spaces expecting heavy foot traffic or having safety concerns, such as homes with elderly individuals or young children, the slip-resistant nature of unpolished tiles provides added security and peace of mind.
Maintenance requirements
Consider your lifestyle and the amount of time and effort you are willing to invest in maintenance. Polished tiles require more regular cleaning and maintenance to keep their glossy appearance intact. On the other hand, it has lower maintenance requirements and is a better choice if you prefer a hassle-free option.
When choosing between polished and unpolished porcelain tiles, it ultimately narrows down to personal preferences, practical considerations, and the desired aesthetic for your adored space. A polished porcelain tile floor offers a sleek and modern look with high reflectivity while it requires slightly higher maintenance and is slippery in wet conditions. Unpolished tiles provide a mere natural look and more textured appearance and come as slip-resistant with lower maintenance requirements but may be more susceptible to scratches and stains over time.
One must need to consider the location, design preferences, foot traffic, and maintenance requirements to make an informed decision. Remember, there is no right or wrong choice, and the decision depends on your requirements, aesthetic choice, and need for style. By carefully weighing the advantages and disadvantages of both types of tiles, you must select the perfect porcelain tile that will enhance the beauty, please the eyes aesthetically, and compliment the functionality of your space for years to come.
Unveiling Zextron Ceramica
If you are pleased by the luxury and serenity in your interior design, porcelain polished tiles from Zextron are your perfect choice. Their glossy finish, seamless texture, and varieties of these tiles help transform your home into a paradise.
Zextron takes pride in offering high-quality polished porcelain tile floors, which undergo rigorous quality analysis to ensure optimum durability and superior endurance. Over the years, we have earned the trust and loyalty of our customers thanks to our commitment to delivering top-notch products at market-competitive rates.
If you are ready to wrap up your home with the luxury of polished porcelain tile, look no further than Zextron. Let us serve you with excellence. Explore our exquisite collection and find your perfect match, adding elegance to your space and holding their quality to the test of time. Choose Zextron Ceramica for the ultimate combination of aesthetic beauty, high quality, and superior durability in polished porcelain tiles.