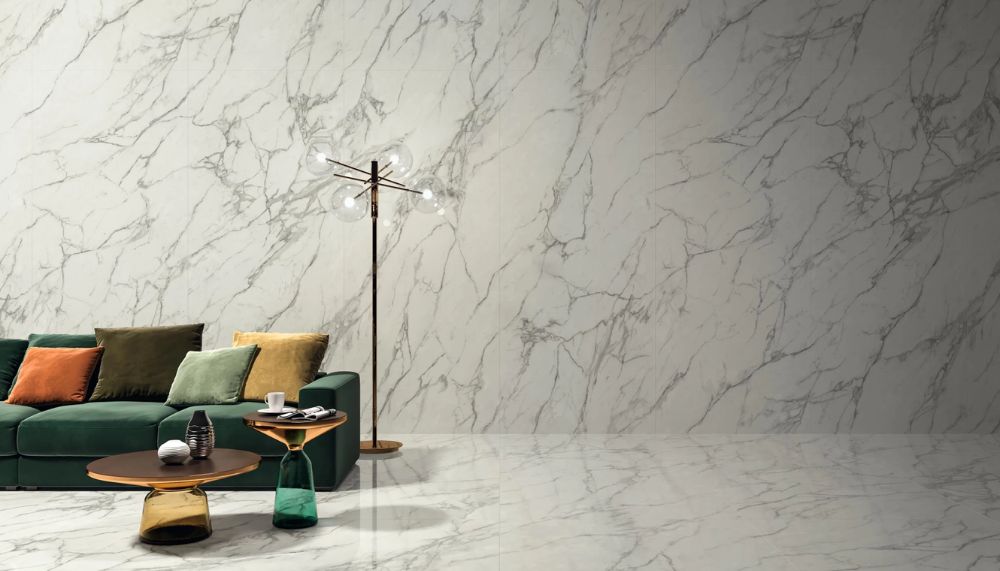 Marble is undoubtedly one of the premium and luxurious materials that is used in various applications for decor starting from creating regal floorings to stunning backsplashes in homes. That's why homeowners have been using them for many years in different projects. But there is a change in the current scenario.
Marbles are not that dominating now after the arrival of marble look porcelain tiles onto the stage. These tiles showcase an array of advantages against real marble tiles regarding sustainability, price, and maintenance. Therefore, people nowadays are declining towards marble effect porcelain tiles as a more convenient choice. But what is the truth behind it? Which one is better, real marble or marble look tiles?
In this blog, we will go deep into the differentiation and explore which one is suitable for your upcoming projects. So let's dive into the eternal debate and find out the answer.
Marble Look Porcelain Tiles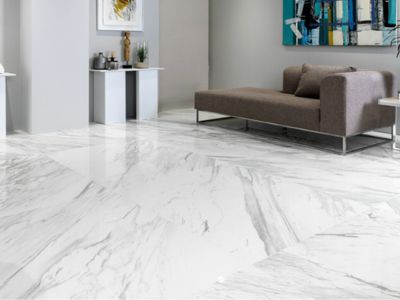 Marble look porcelain tiles are the art of innovation, creativity, and advanced technology that perfectly mimics the natural beauty of marble. They are meticulously crafted to add a stunning and luxurious appearance to your homes with their everlasting beauty and sleek design.
Unlike natural marble, marble look tiles are manufactured using clay, silica, quartz, and other natural materials to ensure high-end durability and longevity. These tiles also undergo a unique manufacturing process that includes firing these tiles at extremely high temperatures to provide them with the signature shining texture. Their glazed and dense surface resembles the royal look of natural marble. But what are the real advantages of marble-looking porcelain tiles? Let's have a look at it:
1. Durability:
Manufactured with premium materials and excellent technology, marble effect porcelain floor tiles are highly durable. They can easily withstand rigorous activities such as heavy foot traffic and continuously changing weather conditions. It makes them a perfect choice for both interior and exterior use too. Due to firing at high temperatures, their surface becomes non-porous and hence resistant to cracks.
2. Easy Maintenance:
Marble look porcelain tiles come up with brilliant features to make cleaning and maintenance hassle-free. Their luring surface is fully scratch-resistant and doesn't get damaged for a long time. Therefore these tiles don't require regular maintenance like marbles and save you a lot in terms of time and money.
3. Cost-Effectiveness:
While real marble's exquisite beauty comes at a premium cost, marble porcelain tiles offer a cost-effective alternative without compromising aesthetics. They are typically more budget-friendly, making them an attractive option for homeowners who desire the luxurious appearance of marble within a more reasonable budget.
4. Versatility:
Marble look porcelain tiles come in a wide array of sizes, colors, and finishes, providing endless design possibilities. They can be used for flooring, walls, backsplashes, and even outdoor applications, allowing you to infuse the timeless charm of marble into any part of your home or commercial space.
Real Marble Tiles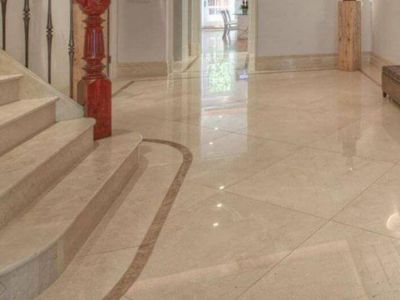 Marbles have earned the reputation of one of the most luxurious decor options across the globe for their meticulous charm and stunning appearance. They adorn your space with a unique beauty that can be rarely achieved using any other material. Therefore, incorporating real marble can seamlessly add elegance and sophistication to your interiors.
But in recent days using marbles has its own drawbacks that can affect you significantly. Let's have a look at some of the serious disadvantages that you must consider before choosing real marbles.
1. High Cost:
Marbles are manufactured using natural stones that are extracted from the ores. Therefore it costs a lot more than other decor materials such as marble porcelain tiles. Moreover, marbles are heavy in weight and require professionals for installation, ending up adding a bit extra to your expenses. That's why real marble makes up a difficult choice for those on a tight budget.
2. Maintenance Requirements:
Unlike porcelain tiles, marbles have a porous surface that makes them prone to accumulate water and dust. Therefore marbles require rigorous cleaning for maintaining good health and hygiene. Marbles also easily catch stains that make their surface look dull. Henceforth, their maintenance timeline becomes time-consuming and hassled.
3. Susceptibility to Damage:
Despite its elegance, marble is a relatively soft stone compared to other materials like granite or porcelain. As a result, it is susceptible to scratching, chipping, and cracking, especially in high-traffic areas or homes with active children or pets. Heavy objects dropped on marble surfaces can cause irreparable damage.
4. Limited Color Choices:
While the natural veining and color variations in real marble are celebrated for their beauty, they may not align with every design vision. Those seeking more uniformity and specific color palettes might find the options somewhat limited compared to the vast variety available in porcelain tiles.
Comparison of Marble Look Porcelain Tiles vs Real Marble Tiles
1. Cost
Comparing the cost we have seen that marble look porcelain tile floors are a more cost-effective and budget-friendly choice in comparison to real marble stones. Real marble tiles come with a premium price tag due to their natural beauty, uniqueness, and luxury status. But Marble finish porcelain tiles serve the same beauty and luxury at a more comfortable price range.
2. Durability
In case of durability, Marble look tiles again steal the victory as they promise a more sustainable decor than real marble. Manufactured in high pressure and temperature, marble-finished porcelain tiles can resist wear and tear and high foot traffic areas. Whereas marbles are more susceptible to cracks and damage in such areas.
3. Maintenance
Marble look porcelain tiles are low-maintenance, requiring minimal effort to keep them looking beautiful. They are non-porous, so they do not require sealing and are highly resistant to staining. Real marble requires more extensive maintenance to safeguard its beauty. Due to its porosity, it needs regular sealing to protect against stains and etching from acidic substances.
Conclusion
In summary, we can say both are undoubtedly excellent options for interior decor and can elevate your space to the next level of beauty. After a detailed consideration of all factors, it might seem that marble-finished porcelain tiles are a preferable choice to real marble due to their cost effectivity, durability, and easy maintenance options. But if you are obsessed with the elegant beauty and textures of marble then you can still go with your choice.
About Us
Zextron Ceramica is one of the globally renowned manufacturers of wall and floor tiles. With the use of precision technology and innovative craftsmanship, we have earned the badge of a trusted manufacturer and exporter from all of our clients across the world. Our marble-look porcelain tiles set the benchmark for high-end durability and unbeatable quality in the industry by serving thousands of customers and helping them build their dream homes. Choose your perfect decore design and tiles with us and transform your ideas into reality.