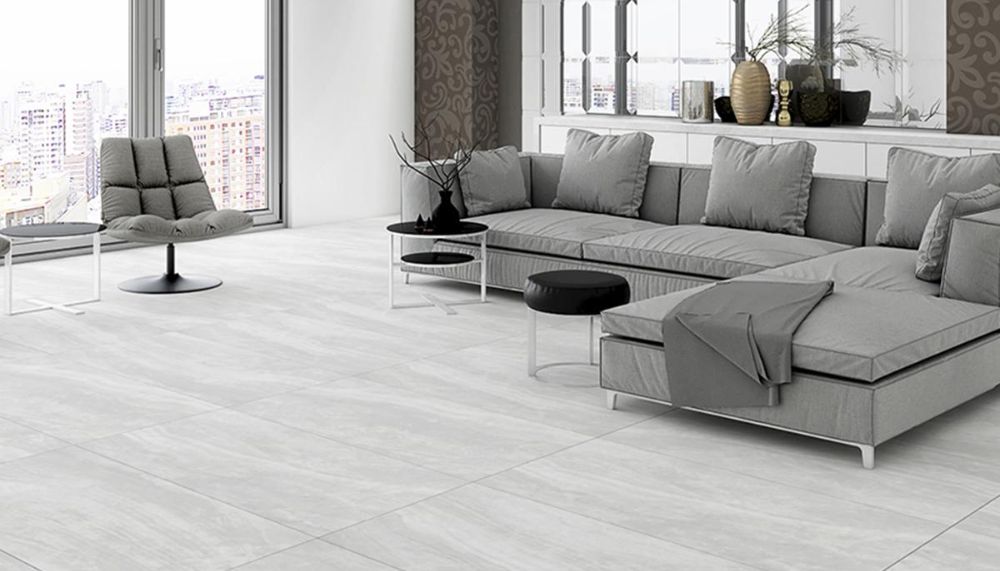 While considering flooring for your home or any commercial space, the market has laid a variety of options to browse from. One popular choice that has gained significance recently is porcelain floor tile.
Porcelain floor tiles, a type within the category of ceramic tiles are made from a specific clay, heated at high temperatures. A few of the most attractive porcelain tiles benefits are their exceptional resistance to wear and tear, high durability, and immense strength. Porcelain flooring tiles have a low water absorption rate, are highly water-resistant, and are best considered for areas with moisture.
These tiles can be made in various sizes, shapes, patterns, and colors allowing for a wide range of design options for pristine aesthetics. Porcelain floor tiles are popular in both residential and commercial settings due to their aesthetic appeal, low maintenance requirements, and long lifespan.
In this blog, we will see the pros and cons of porcelain flooring to help you make the correct decision when selecting the right flooring material for your beloved space.
Advantages And Disadvantages of Porcelain Floor Tiles
Advantages of Porcelain Floor Tiles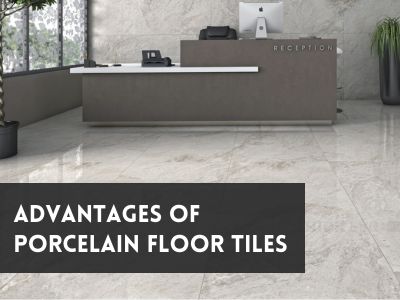 1. Durability And Wear Resistance
These porcelain floor tiles are extremely durable and can highly withstand heavy foot traffic, making them an ideal choice for high-traffic areas like hallways, kitchens, and bathrooms. They are resistant to scratches, chips, and cracks, adding the advantage that your floor remains intact for a long time.
2. Low Maintenance
One of the most significant advantages of porcelain floor tile is its low maintenance and minimal requirements. They are cleaned with no effort and don't require any specialized cleaning products. Regular sweeping and occasional mopping is sufficient to keep them looking pristine.
3. Water Resistance
The floor porcelain tiles have a dense composition, highlighting they are highly resistant to water absorption. This feature makes them suitable for moisture-prone areas, such as bathrooms and kitchens. Unlike other flooring materials, these tiles do not warp or swell when exposed to water.
4. Stain Resistance
Thanks to their non-porous nature, porcelain floor tiles are resistant to stains and spills. The characteristic is particularly beneficial in areas where accidental spills are common, like dining rooms or playrooms. Simply wiping off the spills is usually enough to maintain their original appearance.
5. Design Options
These beautiful tiles for the floor offer a wide range of design options, allowing you to choose from various colors, patterns, and textures. Whether you prefer a sleek modern look or a classic and timeless design, porcelain tiles cater to your aesthetic preferences.
6. Environmentally Friendly
Such tiles are made from natural materials such as clay, sand, and feldspar. They do not emit volatile organic compounds (VOCs), making them environmentally friendly and safe for indoor air quality.
7. Good For Households With Allergies
Unlike carpets, which trap allergens such as dust mites and pet dander, porcelain floor tile provides a hypoallergenic flooring option. They do not harbor allergens, making them an excellent choice for individuals with allergies or respiratory sensitivities.
Disadvantages of Porcelain Floor Tiles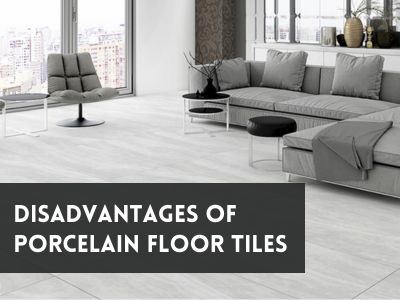 1. Cost
One of the primary disadvantages of porcelain tile is its cost. These tiles tend to be usually more expensive than other flooring materials, such as vinyl or ceramic tiles. However, considering their long lifespan and durability, the initial investment is justified.
2. Installation Difficulties
Installing porcelain floor tile be more complex and time-consuming compared to other flooring options. It requires precise measurements, proper subfloor preparation, and skilled installation techniques. Hiring a professional installer is often recommended to ensure a successful and aesthetically pleasing outcome.
3. Hardness And Slipperiness
While the hardness of porcelain tiles for flooring contributes to their durability, it also is a disadvantage in terms of comfort. Walking or standing on porcelain tiles for extended periods causes discomfort or fatigue. Additionally, porcelain tiles with a glossy finish can be slippery, especially when wet, which poses a safety hazard.
4. Heavyweight
These are heavier than other flooring materials, which makes them challenging to install. The weight of the tiles requires additional structural support for certain applications, adding to the final cost of the project.
5. Coldness And Hardness Underfoot
Porcelain tiles feel cold and hard underfoot, especially in colder climates or during winter months. While this is mitigated by the use of area rugs or underfloor heating systems, it is still worth considering.
6. Environmental Concerns
Although porcelain floor tiles themselves are environmentally friendly, the manufacturing process involves high energy consumption and the use of non-renewable resources. It is essential to consider the environmental impact of the production and transportation of the tiles when making your decision for a certain product.
Conclusion
The porcelain floor tile offers numerous advantages, like low maintenance, water and stain resistance, design options, and environmental friendliness. However, they also have certain debatable disadvantages, including higher cost, installation difficulties, hardness and slipperiness, heavyweight, coldness, and potential environmental concerns.
It is crucial to weigh the pros and cons when considering porcelain tile for your space. The right flooring choice depends on your needs, preferences, and budget.
Introducing Zextron Ceramica
At Zextron Ceramica, we understand the significance of quality and innovation holds in the ceramic industry. Our mission is to revolutionize and reinvent the industry from working within. We strive to provide our customers with impeccable products that combine precision craftsmanship and cutting-edge technologies.
We have served thousands of satisfied customers and helped them build their dream homes with beautiful and sustainable tiles. We are committed to pushing the boundaries of excellence and delivering products that meet the highest standards. Zextron stands on its promise and creates spaces that are aesthetically pleasing, durable, and environmentally friendly.
Frequently Asked Questions (FAQs):
What is porcelain tile?
Porcelain tile is a high-quality, dense ceramic tile made from fine clay and fired at high temperatures. It is known for its durability and water resistance, making it suitable for various applications.
Is porcelain tile porous?
No, this tile is not porous. Its dense composition results in low water absorption, making it highly resistant to water, stains, and moisture damage.
Is porcelain tile fireproof?
Porcelain tile is fire-resistant but not entirely fireproof. It can withstand high temperatures without burning or releasing toxic fumes, making it a safer choice for areas near stoves or fireplaces.
Do porcelain tiles scratch?
Porcelain floorings are scratch-resistant and more durable than many other flooring options. However, extremely heavy or sharp objects can potentially scratch them.
How much does porcelain tile weigh?
The weight of porcelain tiles varies depending on its size and thickness. On average, a square foot of porcelain tile can weigh between 1.8 and 2.7 kgs, but larger or thicker tiles may be heavier.
How durable is a porcelain floor tile?
Porcelain floor tile is exceptionally durable and can last for decades with proper care. It's resistant to moisture, stains, and impacts, making it a reliable choice for high-traffic areas and long-term flooring solutions.
Is porcelain tile good for kitchen floors?
Yes, this tile is an excellent choice for kitchen floors. Its durability, water resistance, and ease of maintenance make it ideal for withstanding the high-traffic and spill-prone nature of kitchens.