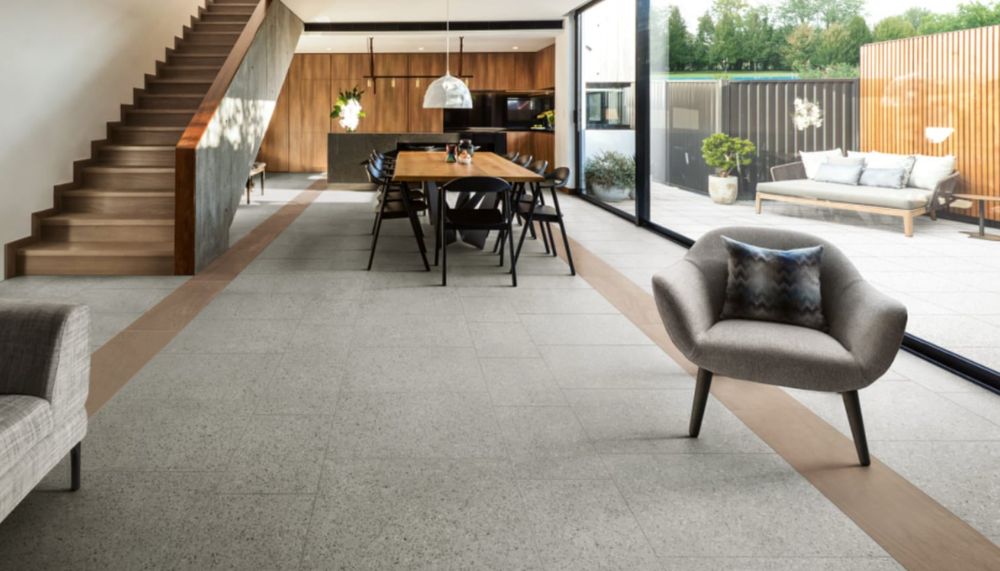 To infuse your dream home with a touch of enchanting decor, porcelain tiles are an excellent option. They are famous for their elegant designs, versatile patterns, and vibrant color options. They can transform your home into a stunning masterpiece of art. But what are the innovative ways for the application of these tiles to get the best out of them?
In this blog, we are going to discover the same. We look into various creative applications of porcelain tiles that will help you to elevate your home decor.
7 Creative Ways To Use Porcelain Tiles
1. Stunning Statement Walls
Porcelain tiles can be used to create a stunning accent wall in a home space. Their innovative designs and rich textures allow you to build a statement wall that curates a long-lasting impression. You can beautifully transform your wall into a stunning selfie point by using the eye-catching patterns and vibrant colors of tiles. But here the choice of tiles and the compatibility between the interiors matter a lot for a perfect design.
Examples:
1. For bright spaces like the living room, you should go with muted tile options. It will give an inviting appeal to your living room with great use of lighting and decor.
2. Similarly, you can use glazed porcelain tiles in bathrooms accent walls. Their reflective surfaces give a unique feel of visual spaciousness and will provide a comfortable atmosphere in your restroom.
2. Bespoke Backsplashes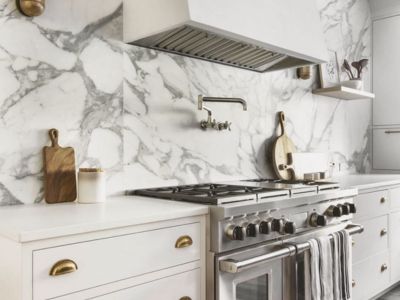 A captivating backsplash can truly enhance the overall decor of a space, and porcelain floor tiles are the ideal material to create an impressive and long-lasting backsplash. You can execute a seamless design in your space by using porcelain slab tiles. Porcelain being the most versatile product provides you with a diverse range of design options starting from minimal to modern.
Herringbone Pattern: Herringbone is a classic yet artistic design for flavorful spaces like a kitchen. The intricate patterns and soothing colors of this design add much-needed extra spice to your decor.
Stone look tiles: Stone look backsplashes can be an exceptional choice for bathrooms to keep a more relaxing feel. Its subtle texture and glaze will rejuvenate your restroom.
Glazed tiles: Make your living room look elegant and sophisticated with glazed porcelain backsplashes. Their elegant minimalist design will lend an inviting and warm appearance to your living room.
3. Fabulous Flooring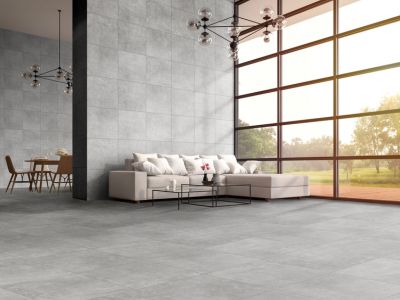 Porcelain tiles have always been considered the best for gorgeous and durable flooring. With the wide range of sizes and patterns available, it is a great option for every home decor. These tiles provide endless design possibilities with their meticulous versatility.
Design ideas:
Geometric Patterns: Create a unique and eye-catching floor by using porcelain tiles in geometric patterns. Mix and match different shapes, colors, and sizes to achieve a dynamic and visually stunning design. This approach works well in entryways, kitchens, or any space where you want to make a bold statement.
Slip Resistant Flooring For Outdoor: Extend the beauty of porcelain floor tiles to your outdoor living areas. Use slip-resistant, weather-resistant tiles to create a patio, deck, or poolside flooring that seamlessly blends with your indoor spaces.
Add Classic Elegance: Install large-format porcelain slab tiles with a polished finish for a timeless and elegant look. This works well in living rooms, dining rooms, and bedrooms, providing a sleek and sophisticated atmosphere.
4. Outdoor Patio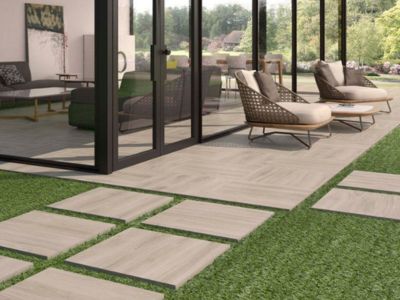 Enhance your outdoors by using porcelain tiles and create a welcoming atmosphere. Porcelain tile with excellent weather-resistant properties and high-end durability is an ideal choice for exteriors like a patio or terrace. By using cohesive designs you can also create a magical indoor-to-outdoor transition using the same contrast of tiles.
The durability is one of the key benefits of using porcelain tiles. It can easily withstand high foot traffic and extreme weather conditions. It is also easy to clean and requires minimal maintenance to keep them in the best shape.
5. Stunning Shower Wall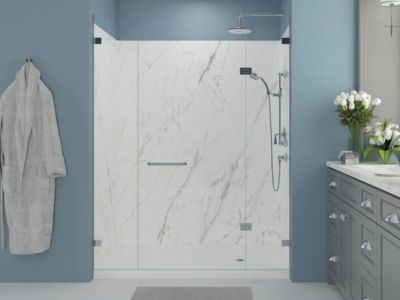 When it comes to creating a glamorous shower wall, nothing goes better than porcelain tiles. It engraves awestruck beauty and also provides seamless functionality making them the favorite choice of homeowners. These tiles provide the natural bold colors that are a must for creating a visually stunning shower wall. With a variety of patterns available, you can choose according to your taste and customize your designs as well.
Porcelain tiles being water resistant, don't get affected by the daily activities of a busy bathroom. It provides assurance for long-term beauty and endurance. They are resistant to scratches, stains, and fading, ensuring that your shower walls will maintain their beauty and integrity for years to come.
6. Subtle Staircase Risers
Make your every step feel the magic of luxurious appeal by transforming your staircase risers with modern and trendy porcelain tiles. The tantalizing beauty of porcelain can revamp your staircase into a piece of art. Their unique and customizable patterns will help you reflect your personal style in the overall decor.
It also makes your staircase durable and resistant to factors like scratches and stains. Made up of porcelain, these tiles can withstand heavy foot traffic and maintain the beauty of risers for an extended period of time. Your staircase will become a stunning focal point that enhances the overall aesthetic of your space.
7. Mesmerizing Bathroom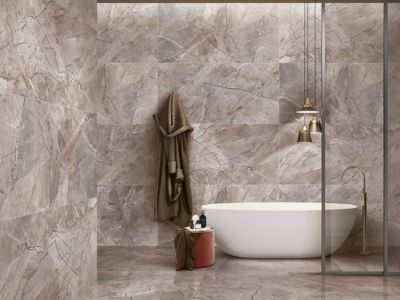 Transform your bathroom into a mesmerizing space with the use of porcelain tiles. Opt for patterned or textured tiles to create an eye-catching and visually captivating floor. Consider geometric or nature-inspired designs to add depth and interest to the bathroom. Complement the flooring with sleek and modern tiles, creating a cohesive and stylish look.
Use these tiles in unique colors or finishes to add vibrancy to cabinets or storage units. This mesmerizing transformation with well-placed lighting fixtures enhances the beauty of the tiles. With the durability and versatility of tiles, your bathroom will become a stunning and functional space that leaves a lasting impression.
Why Choose Zextron International?
Zextron International is a leading ceramic manufacturer from India, known worldwide for its innovative and highly durable porcelain tiles. We have brought to you high-quality tiles of different sizes that will be a perfect fit for your every project. Our lightweight tiles are easy to install and promise longevity. That means once you have installed them you can get benefits for generations. Pick gorgeous decor for your space from our collections today.