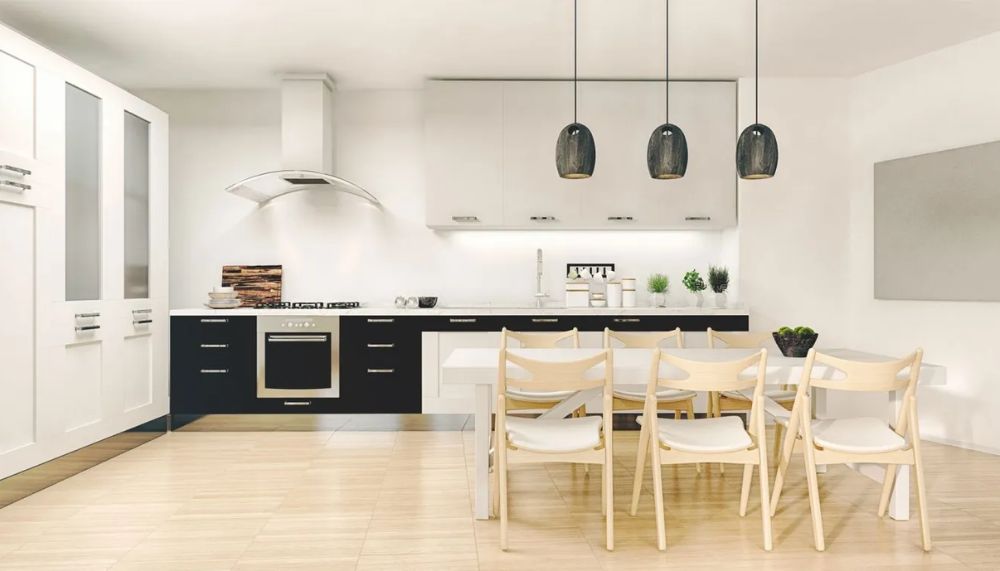 The kitchen flooring when considered, homeowners are presented with multiple options boasting every tile's unique features and benefits. Among these choices, a homeowner may feel overwhelmed and make an unsuitable choice. From the expert's point of view, porcelain tile kitchen floors have emerged as a popular and versatile option for modern kitchens.
Porcelain tiles are a type of ceramic tile, which are crafted from finer clays, fired at higher temperatures. These result in denser and more durable material creation. In this blog, we will explore five key benefits that make porcelain tile for kitchens the ideal choice.
5 Benefits of Choosing Porcelain Tile For Kitchens
1. Superior Durability and Strength
Exceptional durability and high strength are the primary reasons why homeowners opt for porcelain tile for kitchens. Porcelain tiles are renowned for their resilience and high resistance to cracks and chips. The manufacturing process starts with compacting the clay particles under high pressure. Leading to a dense tile withstanding heavy foot traffic, kitchen equipment, and dropped utensils without showing signs of wear and tear.
Additionally, when it comes to porcelain kitchen tile, they are known to be frost-resistant, and suitable for both indoor and outdoor kitchen spaces. Whether you reside in a region with harsh climates like extreme winters or scorching summer heat, porcelain tiles are designed to endure various environmental conditions. These tiles ensure your kitchen flooring remains intact for years to come.
2. Easy Maintenance and Cleaning
The ease of maintenance and clearing is another compelling reason to choose porcelain tile for kitchens. Their low porosity characteristic makes these tiles highly resistant to quickly absorbing liquids and stains. This feature makes cleaning spills and splatters easy, as messes can be wiped away quickly without leaving any residue.
Unlike others, porcelain tiles do not require any expensive cleaning agents or tough chemicals to fight the stain and maintain their appearance. Regular sweeping and occasional mopping, along with a mild detergent solution is all that's needed to keep your kitchen floor looking fresh and pristine.
3. Stain and Scratch Resistance
The kitchen being a high-traffic area, spills and accidents are more common occurrences than regular. Porcelain tiles' have stain and scratch-resistant properties making them an ideal flooring choice for this space. Porcelain tile kitchen floors are not like natural stones and do not easily absorb liquids or suffer from surface damage caused by sharp objects.
You can rest assured that, whether it's dropped utensils, heavy cookware, or spilled sauces, your porcelain tiles will remain resilient and maintain their attractive appearance over the long run. The durability not only keeps your kitchen looking beautiful but also saves you money on frequent repairs or replacements.
4. Hygienic and Non-Porous Surface
Food preparation is the main activity of the kitchen and maintaining a clean and hygienic environment is a crucial responsibility. Kitchen flooring porcelain tile takes up the task with a non-porous surface, meaning they do not permit the penetration of liquids, bacteria, or allergens. This feature ensures that your kitchen remains a safe and healthy space, minimizing the risk of bacterial growth and contamination.
Application of standard cleaning practices can easily help you eliminate any potential health hazards. Thereby, your kitchen is made a safe and welcoming area for family and guests alike, marking it a healthy space.
5. Cost-Effective Investment
The long-term benefit of investing in porcelain tile in kitchens might seem like a significant upfront cost, but it proves to be a highly cost-effective choice. The rare durability and resistance provided by the porcelain tiles are what make them worth your money. One won't need to replace them frequently, saving you money in the long run.
The timeless beauty of porcelain kitchen tiles acts as a perk, and enhances your kitchen's aesthetic appeal, potentially increasing the overall value of your home.
Conclusion
When looking for the right tiles for your kitchen, consider the unique advantages of porcelain tiles, as they provide both practicality and timeless elegance to complement your kitchen's design.
If you're upgrading your kitchen flooring, consider porcelain tiles, and enjoy the benefits they bring to your culinary haven. Porcelain kitchen tiles with their superior durability, easy maintenance, and resistance to stains and scratches have been the game changer for homeowners.
Most of the clients may see the initial cost may seem high, but the long-term benefits and cost-effectiveness delivered by porcelain tile for kitchens make them a wise investment. The low maintenance and ease of cleaning efficiency for these tiles reduce the costs on cleaning products and professional services.
Why Choose Zextron's Porcelain Tile for Kitchens
When you choose our porcelain tile for kitchen space, you are not only opting for practicality and functionality but also embracing a timeless and sophisticated design that complements your kitchen's aesthetics.
Allow us, to transform your culinary haven with our high-quality porcelain tiles, and create a space that exudes beauty, durability, and ease of maintenance. At Zextron Ceramica, we take pride in offering porcelain tiles that are specially crafted to bring a host of benefits to your kitchen flooring.
Our team's commitment to quality and innovation ensures that homeowners enjoy a good range of advantages that set porcelain tiles apart as the ideal choice for modern kitchens. Choose our tiles for your kitchen flooring needs, and let us be your partner in creating a kitchen space that you can enjoy and cherish for years to come.