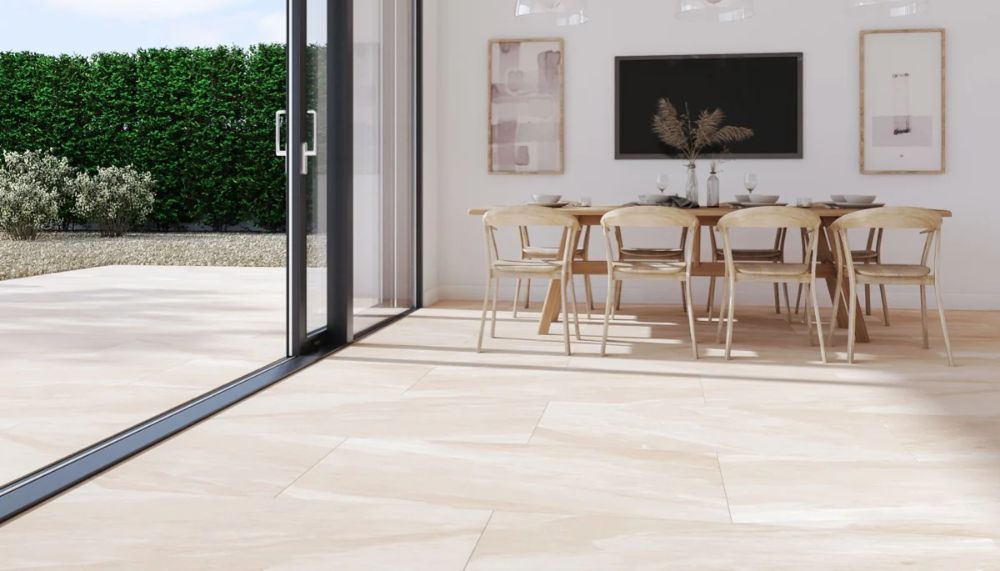 When it comes to outdoor spaces, homeowners and designers are always on the lookout for durable, aesthetically pleasing, and low-maintenance materials. Remarkable properties and versatility have made porcelain tiles have emerged as a popular choice for outdoor spaces.
Combining beauty and top-notch functionality, porcelain tiles offer numerous advantages, which scores them an ideal position in the lists for transforming any outdoor area into a stunning oasis. In this blog, we will explore 7 exciting applications of porcelain tile for the outdoors to help you elevate your space's appeal at first glance.
6 Applications of Porcelain Tile for Outdoor Spaces
1. Stunning Patios and Terraces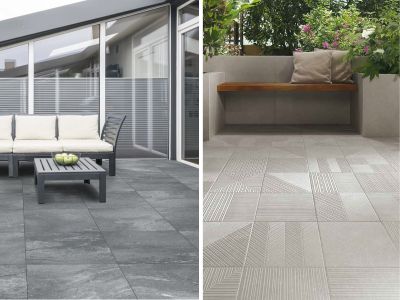 Patios and terraces have become a go-to solution along with Porcelain tiles. Thanks to their captivating aesthetics and exceptional durability, they ace the market with a multitude of options. These are available in various colors, patterns, and textures, also they can be made to mimic natural stone or wood. Which results in providing an elegant and sophisticated look to your outdoor living areas.
Additionally, porcelain's resistance to disruptive causes like moisture, stains, and fading ensures that your patio or terrace remains beautiful year-round, with minimal maintenance both physically and financially.
Suitable finishes and types of porcelain tiles for this area:
Textured or Riven Finish: Provides slip resistance, making it safe for outdoor use.
Natural Stone Finish: Mimics the texture and appearance of natural stone for an authentic look.
2. Eye-catching Walkways and Pathways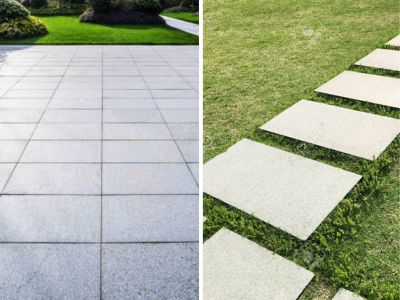 Porcelain tile for outdoors helps homeowners create a welcoming pathway. The tile's non-slip surface makes them a safe choice for walkways. Irrespective of the weather be it winter or rainy. Options that resemble cobblestone, brick, or gravel, the porcelain tiles are superior to them all. They add a touch of luxury and elegance to your garden or any other landscape while ensuring easy navigation for residents and guests.
Suitable finishes and types of porcelain tiles for this area:
Porcelain Pavers: These larger tiles with a matte finish are perfect for creating stable, walkable surfaces.
Porcelain Cobblestone Finish: Offers a classic and rustic look for pathways.
3. Inviting Outdoor Dining Areas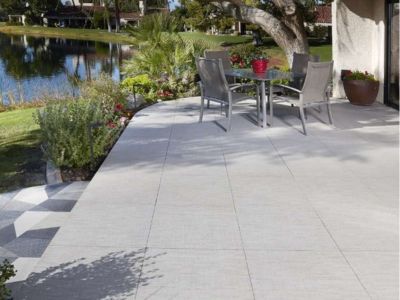 Porcelain tile is perfect for designing stylish outdoor dining areas that seamlessly blend with your home's interior design. These tiles have large format sizes, allowing homeowners to be a part of an impressive seamless transition between indoor and outdoor spaces.
These tiles have the ability to withstand high foot traffic and resist scratching. It can maintain its beauty even after countless gatherings and barbecues. Which keeps your outdoor dining area a delightful extension of your home for a good time in the future.
Suitable finishes and types of porcelain tiles for this area:
Matte Finish: Reduces glare, making it comfortable for dining.
Wood Finish: Mimics the warmth of wood without the maintenance.
4. Functional Pool Surrounds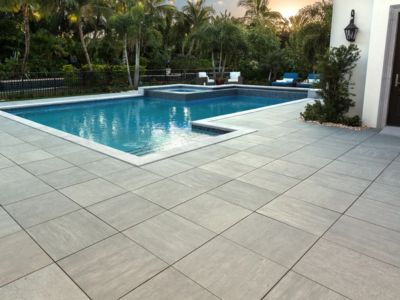 The biggest challenge when it comes to pool areas is to find a material that can withstand being constantly exposed to water and sunlight. Porcelain tiles are one such durable material, which has risen to the occasion with their impressive slip-resistant surface. These have upped the list of excellent choices for pool surrounds.
Moreover, these tiles are impermeable to water and other chemicals. Thus, ensuring that they retain their luster and color for many summers to come.
Suitable finishes and types of porcelain tiles for this area:
Anti-Slip Finish: Specifically designed to prevent slipping in wet areas.
Light & Cool Color Tile: Absorbs less heat, making it comfortable for bare feet.
5. Captivating Garden Walls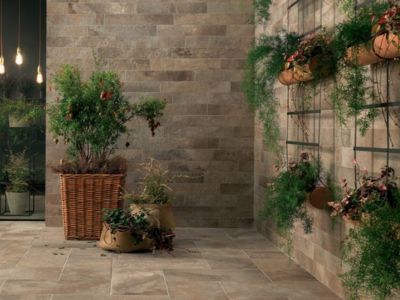 Adorn your garden walls by taking your garden design to the next level with porcelain tile. Notch up your preferences with porcelain tiles be it a modern, sleek look or a rustic, porcelain tiles can cater to your aesthetic preferences. These tiles are known for their fade-resistant nature. So it makes the garden walls vibrant and eye-catching for years without succumbing to the effects of sun exposure.
Suitable finishes and types of porcelain tiles for this area:
Stacked Stone Finish: Creates a natural stone wall appearance for garden walls.
Textured Finish: Adds depth and visual interest to the walls.
6. Charming Outdoor Fireplaces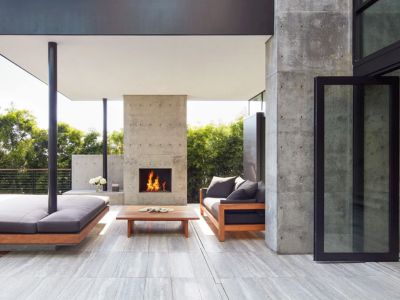 Need a cozy and inviting ambiance for your outdoor fireplace? Porcelain tiles have the ability to add a touch of elegance to any surrounding. They are highly heat-resistant making them an irresistible choice and a safe option for surrounding the fireplace. If you like experimenting with different patterns and colors to complement your outdoor decor. With porcelain tiles, you have the liberty to turn your fireplace into a focal point that brings warmth and comfort to your outdoor gatherings.
Suitable finishes and types of porcelain tiles for this area:
Ledger Stone Finish: Resembles stacked stone for a rustic fireplace surround.
Matte or Satin Finish: Complements the cozy atmosphere of a fireplace.
Frequently Asked Questions (FAQs):
Q-1: Is porcelain tile good for outdoor use?
Yes, porcelain tiles are suitable for outdoor use due to their durability, resistance to moisture, and low maintenance.
Q-2: What are the disadvantages of porcelain tiles outside?
Disadvantages can include cost, slipperiness when wet, and potentially needing a textured surface for safety.
Q-3: How thick should outdoor porcelain tiles be?
Outdoor porcelain tiles are typically 2 cm thick (about 0.79 inches) for strength and durability in outdoor conditions.
Q-4: How to keep outdoor porcelain tiles clean?
Clean outdoor porcelain tiles by sweeping regularly and using mild detergent with water for stains. Avoid abrasive cleaners.
Q-5: What is the best mop for outdoor porcelain tiles?
Use a soft-bristle broom or a mop with a microfiber or sponge head for cleaning outdoor porcelain tiles to avoid scratching the surface.
Q-6: How long do outdoor porcelain tiles last?
With proper care and installation, outdoor porcelain tiles can last for decades, often outlasting other outdoor flooring materials.
Q-7: How to protect outdoor porcelain tiles?
Protect outdoor porcelain tiles by sealing the grout, avoiding heavy impact, and using furniture pads to prevent scratching.
Q-8: Can we use outdoor porcelain tiles indoors?
Yes, you can use outdoor porcelain tiles indoors, but they are typically thicker than indoor tiles. Ensure they meet indoor design preferences.
Conclusion
Whether you're looking for a luxurious retreat or a functional outdoor oasis, Porcelain tiles can help you achieve your vision and create a space that will be enjoyed for years to come. The beauty and versatility of porcelain tiles are to be embraced. While they can also be used in transforming your outdoor space into a mesmerizing haven.
Be it the spacious patios and open terraces to functioning pool surrounds and garden walls, outdoors porcelain tile is the perfect choice for all. Their applications are as diverse as they are impressive.
Why Choose Us?
With our attractive range of outdoor porcelain tiles of Zextron Ceramica, homeowners and designers can confidently transform their outdoor areas that stand the test of time. We take pride in offering unmatched durability, aesthetic appeal, and low maintenance in every porcelain tile we offer.
Embrace the beauty and versatility of our outdoor porcelain tile to reflect your vision, providing you with a luxurious retreat or a functional outdoor oasis that will be enjoyed for years to come. Choose our tiles and experience the difference in outdoor living.